DOH-MMCHD RECOGNIZES MANDALUYONG CITY FOR COVID-19 RESPONSE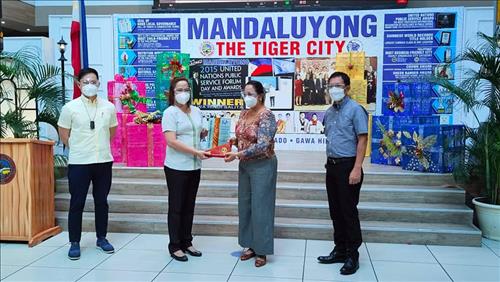 HPMRU News Release
December 14, 2020
Dr. Corazon I. Flores, Officer-In-Charge of the Department of Health – Metro Manila Center for Health Development (DOH-MMCHD) visits the Mandaluyong City to personally confer the COVI-19 Response Service Award 2020 to Honorable Carmelita A. Abalos, Mayor of Mandaluyong City.
The conferment of the recognition award coincided the Mandaluyong City Flag Raising Ceremony at the atrium of the city hall building that was attended by the employees from the various departments of the city government.
Director Flores commended the dedication and efforts of the city government, specifically its leaders, and medical and non-medical frontline workers, in effectively and efficiently responding to the COVID-19 pandemic that greatly affected the health system and economic development of the city.
As "another feather on the hat" of the city, Mayor Abalos, whole-heartedly accepted the plaque of recognition on behalf of all the Mandaleños who worked hard to mitigate the transmission of the coronavirus within the city.
Joining Mayor Abalos in accepting the service recognition award is Dr. Alexander Sta. Maria, the City Health Officer and Dr. Zaldy Carpeso, Director of Mandaluyong City Medical Center.