DOH-MMCHD HANDS OVER E-BIKES FOR ESSENTIAL USE OF DMOS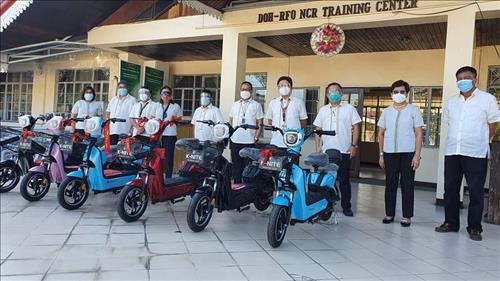 HPMRU News Release
December 14, 2020
The Department of Health–Metro Manila Center for Health Development today hand over eight units of electric-powered bicycles or e-bikes to several Development Management Officers (DMO) assigned in the Local Health Support Division–Field Operations Cluster (LHSD-FOC).
A part of todays Flag Ceremony is allotted for the turn-over of the e-bikes to DMOs who deserved to be appreciated for their relentless performance of duties, particularly in providing technical support to the local government units they are assigned to despite of not having their own transportation.
Dr. Maria Paz P. Corrales, Assistant Regional Director, Dr. Amelia C. Medina, Chief of Local Health Support Division, Dr. Jeremias Francis Y. Chan, Chief of Regulations, Licensing and Enforcement Division and Mr. Philip F. Du, Chief of Management Support Division officially endorsed the e-bikes to the following: Mr. Roberto Belchez, Mr. Julio Garcia, Ms. Rosalie Espeleta, Mr. Ritcher Quitevis, Dr. Anatoly de los Santos and Dr. Jose Mari Castro.
Prior to the actual turn-over, Dr. Medina expressed appreciation to the Senior Vice President of Teleperformance Corporation for their generous donation of the e-bikes. Dr. Medina also conveyed during the flag ceremony that other units of e-bikes were given to several Social Hygiene Clinics in Metro Manila to be used in the delivery and dispensing of Antiretroviral (ARV) medicines for Persons Living with Human Immunodeficiency Virus or PLHIV.
The DMOs who received their e-bikes were naturally surprised and elated with the gesture conveyed by the office that signified the appreciation for their efforts and commitment in providing technical assistance to the local government units.