SEC. DUQUE PROMOTES BIDA AT THE MALLS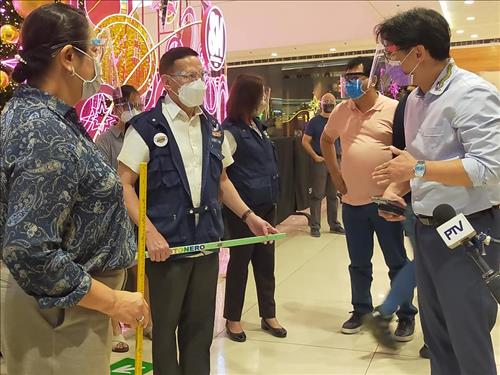 HPMRU News Release
December 10, 2020
Health Secretary Francisco T. Duque III yesterday visited SM Megamall at the Ortigas Center, Mandaluyong City to promote the BIDA Solusyon sa COVID-19 of the Department of Health, a behavioral campaign adapting the Minimum Public Health Standards (MPHS) mandated by the Interagency Rask Force for the Management of Emerging Infectious Diseases (IATF-EID).
BIDA is a contraction that such that B is for Bawal walang mask. I refers to I-sanitize ang mga kamay, Iwas hawak sa mga bagay. D means Dumistansya ng isang metro. Finally, A stands for Alamin ang totoong impormasyon.
Sec. Duque, together with his contingent from the Department of Health, was warmly welcomed by Mr. Steven Tan, President of SM Shopping Center Management Corporation and the Hon. Carmelita A. Abalos, Mayor of Mandaluyong City.
During this essential public visit, Sec. Duque checked the enforcement of basic health protocols within the mall. It was clearly observed that automated thermal scanners are in entrance points and are functional upon entry of the mall-goers. The number of individuals is also counted so that the mall management will be able to monitor the maximum allowable capacity of the mall at a given time. Advisories for the health protocols are visibly located on conspicuous areas. Security officers hold placards to constantly remind the shoppers on the health protocols that need to be observed at all times.
Sec. Duque, likewise, requested the mall management to designate BIDA Bastoneros and Bastoneras who will act as Safety Officers and ensure the strict adherence and sustainability of carrying out the health and safety protocols for COVID-19 prevention in SM Supermalls throughout the country. This action proved once again that Public-Private Partnership is in progress.
Dr. Corazon I. Flores, OIC-Director IV and Dr. Maria Paz P. Corrales, Director III led the team of DOH-Metro Manila Center for Health Development who joined Sec. Duque in the visit.