SEC. DUQUE COMMENDS ROBINSONS SUPERMARKET FOR BIDA EFFORTS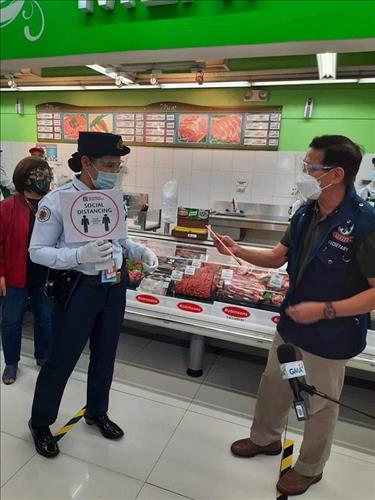 HPMRU News Release
December 4, 2020
Health Secretary Francisco T. Duque III today visited Robinsons Supermarket along Del Monte and Banaue Avenues in Quezon City to personally commend Robinsons Supermarkets for its diligent adherence to the BIDA Solusyon sa COVID-19 Campaign of the Department of Health (DOH).
Sec. Duque witnessed the dedication and efforts of the management of Robinsons Supermarket in implementing the Minimum Public Health Standards (MPHS) for the safety of its customers and workers against COVID-19.
The DOH contingent was welcomed by Ms. Maria Teresa B. Magno, the Regional Operations Manager of Robinsons Retail Holdings, Inc. and her staff.
Robinsons Supermarket diligently applies the basic health and safety protocols in the establishment. Customer safety protocols that include 1-meter-apart queueing, stepping on foot disinfection mats, thermal scanning, automated hand sanitizing, use of Contact Tracing Quick Response Code and filling-out of health declaration and contact tracing forms are implemented prior to the entry of customers and its workers to the supermarket. Health advisories are conspicuously posted within the vicinity to constantly remind both customers and workers on the basic protocols everyone has to comply with. Security officers roam around the supermarket area holding placards to reiterate these health and safety protocols. Food safety is strictly observed. Also, shopping carts and baskets are regularly disinfected and used carts and baskets are placed in a separate area for the usual disinfection procedures.
Having observed the good practices on MPHS, Sec. Duque requested the management of Robinsons Supermarket, thru Ms.Magno, to designate BIDA Bastoneros and Bastoneras in all of their branches to act as Safety Officers and ensure the strict adherence and sustainability of carrying out the health and safety protocols for COVID-19 prevention in the establishment.
Dr. Corazon I. Flores, OIC-Director IV, Dr. Maria Paz P. Corrales, Director III led the team of DOH-Metro Manila Center for Health Development who joined Sec. Duque and his contingent in this noteworthy endeavor that signified a strong Public-Private Partnership.