SEC. DUQUE AND MAYOR MORENO REITERATES BIDA IN DIVISORIA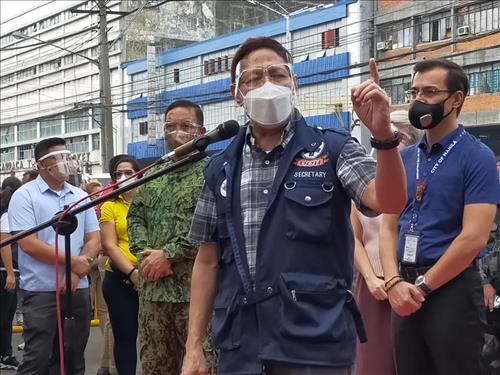 HPMRU News Release
December 3, 2020
Health Secretary Francisco T. Duque III and Mayor Francisco "Isko" M. Domagoso of the City of Manila today joined forces as they reiterate the BIDA Solusyon sa COVID-19 Campaign in the City of Manila.
The two officials had a press conference at an open area in Recto Avenue corner Ilaya Street, Brgy. 269, Zone 25 in Manila. The place is commonly known as Divisoria. During the activity, Dr. Corazon I. Flores, OIC-Director IV, Dr. Maria Paz P. Corrales, Director III led the team of DOH-Metro Manila Center for Health Development. Sec Duque emphasized that since the coronavirus that caused the COVID-19 pandemic is a novel virus, there is a lot of modifications and improvements being made in the guidelines issued by the health department and partner agencies. Acquisition of knowledge about the coronavirus and preparation for response is a continuing process.
He also mentioned that there are more than 10,000 quarantine and isolation facilities and approximately 180 Department of Health (DOH)-accredited COVID-19 testing laboratories nationwide that will help the government in addressing the problem on the disease. Contact tracing of suspected cases was intensified. Likewise, the capacity for admission of COVID-19 cases in hospitals was increased to 30% of the total hospital bed capacity. The government is preventing the surge of cases especially in this yuletide season when people tend to forget the basic health protocols.
Vaccines will be available for use by the early half of next year, according to Sec. Duque. The government aims to vaccinate at least 70% of the Filipinos so that herd immunity will be attained. Among the priorities to be vaccinated are the poor and the vulnerable individuals.
Incidentally, Sec. Duque also reminded the public of the BIDA Solusyon sa COVID-19 campaign of the Department of Health.
On behalf of the Manileños, Mayor Moreno expressed that the city government is in full support to the BIDA Solusyon sa COVID-19 Campaign of the Department of Health. The city has policies adhering to the Minimum Public Health Standards (MPHS) mandated by the Interagency Task Force for the Management of Emerging Infectious Diseases (IATF-EID).
Immediately following the press conference is the ceremonial turn-over of the BIDA Solusyon Family Hygiene Kits to the city government and the distribution of the said kits to stall owners and customers of the tiangge along Ilaya Street.