HEALTH SECRETARY DUQUE VISITS ULYSSES VICTIMS IN MARIKINA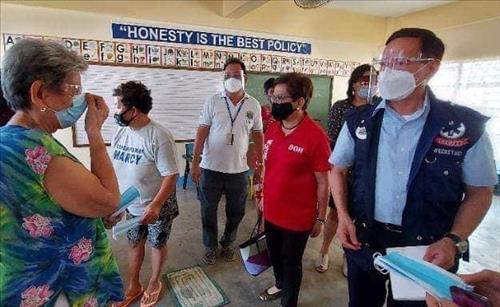 News Release
November 13, 2020
Health Secretary Francisco T. Duque III visited Marikina City to personally assess the health condition and needs of the Mariqueños who were greatly affected by Typhoon Ulysses.
At around 1:00 in the afternoon, Sec. Duque arrived at the Malanday Elementary School that served as a temporary shelter for hundreds of individuals and families heavily affected by Typhoon Ulysses that hit the country, particularly Metro Manila, on November 12.
Secretary Duque was joined by Undersecretary Leopoldo Vega, Assistant Secretary Elmer Punzalam and Dr. Gloria Balboa of the Department of Health- Central Office and Dr. Corazon Flores and Dr. Maria Paz Corrales of the Department of Health-Metro Manila Center for Health Development.
Sec. Duque, together with the officials of the Department of Health, personally gave face masks to the evacuees. He emphasized the importance of abiding with the Minimum Public Health Standards (MPHS) mandated by the Interagency Task Force for the Management of Emerging Infectious Disease (IATF-EID) for the prevention of COVID-19.
While the country and the rest of the world is still in the state of COVID-19 pandemic, it is utmost importance to practice physical distancing, hand washing and wearing of face mask and face shield especially now that many people, including children and vulnerable groups of individuals, are housed in evacuation centers as they were displaced by the natural calamity.
Essential medicines, vitamins and family hygiene kits were endorsed to the local staff of Marikina City as augmentation to their existing medical supplies.