DOH-MMCHD DEPLOYS TEAMS TO AID ULYSSES-AFFECTED METRO MANILANS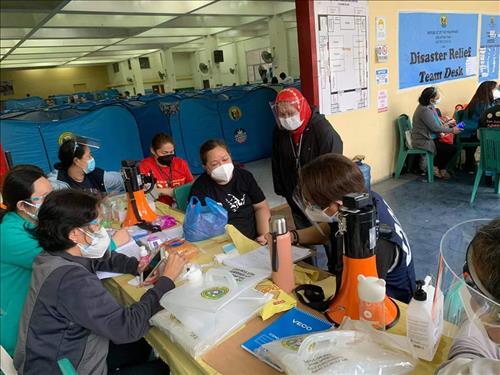 News Release
November 13, 2020
During the scourging effect Typhoon Ulysses in Metro Manila on November 12, 2020, Thursday, officers and staff of the Department of Health - Metro Manila Center for Health Development (DOH-MMCHD) actually went on site and immersed themselves in several heavily-affected areas in the region.
The Health Emergency Management Unit (HEMU) and Emergency Operations Center (EOC) manned by the officers-on-duty remained in full operations for the daily 24-hour round-the-clock monitoring of health-related events occurring within the region, specifically due to Typhoon Ulysses.
Prior to Typhoon Ulysses, the office reconstituted the Medical Teams and Water Sanitation and Health (WASH) Team and reiterated the duties and responsibilities of the team leaders and members by issuing a regional order to this effect...
Action planning with the teams was thoroughly done as facilitated Dr. Amelia C. Medina, Chief of the Local Health Support Division (LHSD) before the deployment of Medical and WASH teams. As part of the planning session, are the following concerns were discussed, such as: (1) Identification of Evacuation Centers; (2) Coordination between the Development Management Officers and the Supply Officer; (3) Inventory of Logistics; and (4) Preparation of Assessment Tools.
Medical Teams and WASH Teams were deployed to Valenzuela City, Marikina City, City of Manila, San Juan City and Muntinlupa City to conduct Rapid Damage Assessment and Needs Analysis, Assessment of Water Sanitation and distribute essential logistics to affected individuals and families. Included in the logistics support to the local government are Doxycycline (200 mg.), Amoxicillin (500 mg.), Paracetamol (500 mg.), Personal Protective Equipment (PPE), surgical masks, Jerry cans and hygiene kits.
Moreover, health education will be done especially that we are still in the midst of COVID-19 pandemic. People will be reminded of the importance of abiding with the Minimum Public Health Standards (MPHS) mandated by the Inter-agency Task Force on the Management of Emerging Infectious Diseases (IATF-EID) like the wearing of face mask and face shield, physical distancing and hand washing.