SAVING LIVES THROUGH RELAYING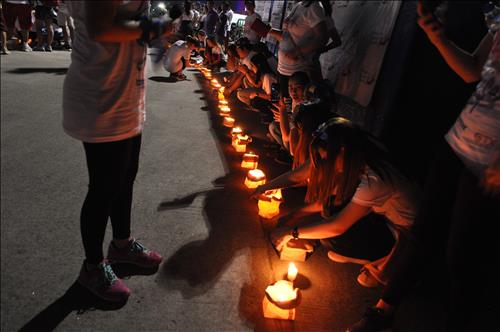 By Kristyl Pascubillo

QUEZON CITY – The Department of Health-National Capital Regional Office participated in the annual Philippine Relay for Life fundraising event for 2018 which was themed, "We Can, I Can Beat Cancer: Relay for Life 2018" to give support to the cancer survivors and victims. It is also to remember and commemorate our loved ones that we lost to cancer. Relay for Life 2018 was attended by hundreds of people and held at Quezon Memorial Circle on March 16-17.
The fundraising event of Philippine Relay for Life 2018 was organized by the Philippine Cancer Society as all the funds that were collected were also given to the cancer patients who are currently fighting against cancer. The goal of the Relay for Life is to raise awareness against the plight of people with cancer, provide assistance to them and to give them hope that people are always there to support and care. The event started at 4'oclock in the afternoon on March 16 and ended at 7'oclock in the morning on March 17.
The said activity was attended by Dr. Clar Cairo of DOH, Chairman of Relay for Life Hon. Herbert M. Bautista, President of Cancer Fighters Tess Baningit and Dr. Kelly Salvador of Philippine Cancer Society. The event was also attended by performance artists, cancer patients and survivors, and hundreds of people that participated to help and show support.
Upon joining the event, t-shirts were given to those who registered and participated. The people who joined were all actively joining the walk around the vicinity as they held their own organization flags or tarpaulins. This continued until the end of the event. When 12 o'clock am hits, the 'Luminaria' program was initiated.
'Luminaria' was a part of the event wherein people lighted candles to honor patients who have survived, and/or are fighting cancer. This was also to commemorate those who passed away from the illness. Lighted candles encompassed all the vicinity of Philippine Relay for Life 2018 which illuminated hope to everyone who attended the event.
The Philippine Cancer Society promises that they will continue serving the cancer patients and survivors, in which the DOH-NCRO fully supports. The DOH-NCRO will also give its assistance as much as it is needed to achieve a better health system for the country.