PROJECT HEAL KICKS OFF IN MAKATI CITY JAIL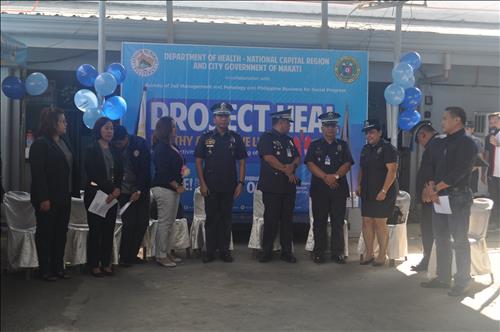 BY KRISTYL JOYCE PASCUBILLO
MAKATI – The Department of Health-National Capital Regional Office (DOH-NCRO) together with the Makati City Government successfully initiated Project HEAL (Healthy and Active Lungs) on February 6 at the Makati City Jail wherein a Tuberculosis (TB) Mass Screening for the inmates was conducted.
The kick-off activity was made possible through the cooperation of the Bureau of Jail Management and Penology (BJMP), Department of the Interior and Local Government-National Capital Region Office (DILG-NCR), Makati City Jail, Congressional Spouses Foundation Incorporated (CSFI), and Makati City Health Office. These agencies have been immensely effective in helping DOH-NCRO against TB, and human immunodeficiency virus (HIV) amongst the inmates of Makati City Jail. As J/Supt. Esmeralda A. Azucena said, "Through this project, we [Makati City Jail] are one step closer to TB-free place".
The event was attended by DOH-NCRO Local Health Support Division (LHSD) Chief Dr. Amelia Medina, DOH-DPCB NTP Manager Dr. Anna Marie Celina Garfin, BJMP Chief J/Dir. Deogracias Tapayan, Makati City Jail Superintendent Esmeralda Azucena and President of the Congressional Spouses Foundation Inc. (CSFI), Ms. Emelita Alvarez. Regional Director of DILG, Ma. Lourdes Agustin was represented by Mr. Jean Redi Briones, LGO Officer V. Dr. Frederick Frago and Dr. Jane Rivero attended in behalf of Makati CHO-OIC Dr. Bernard Sese. Some staff members of the LHSD Infectious Disease Cluster (IDC) and Makati City Jail, including the inmates themselves, were present to witness the kick-off activity.
J/Supt. Esmeralda A. Azucena, warden of Makati City Jail, formally opened the program. As she discussed in her opening remarks, the project counts as the first in the history of the said facility. Services such as HIV Screening, chest X-ray screening, and RBS were made available to the inmates.
With the current goal of DOH, this only counts as the first among the series of TB Mass Screening activities under Project HEAL which will be conducted in the succeeding months.
Towards the end, Dr. Frederick Frago enthused all stakeholders to join forces in eradicating TB. "This [fight against TB] will not be addressed by the doctors and policy makers alone. This is more of a multidisciplinary problem that needs multidisciplinary approach," he said in his closing remarks.