Actions on Dengvaxia Situation: District III and IV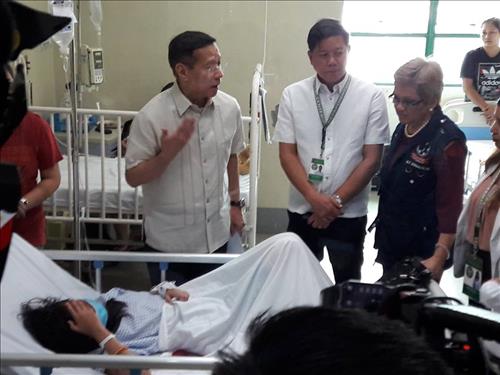 Actions on Dengvaxia Situation: District III and IV
By Joyce Anne Sandajan
In light of the recent turmoil that the Department of Health has been facing due to the Dengvaxia backlash, the agency has taken extra measures in ensuring the well-being of all those at risk of dengue.
The Department of Health - National Capital Regional Office (DOH-NCRO) has primarily coordinated with all local government units (LGUs), City Health Officers (CHOs) and the Department of Education (DepEd) School Superintendents in disseminating accurate information regarding the Dengue Immunization Program, and at the same time further intensifying the control and prevention strategies against the virus.
On January 9, 2018, the District 3 LGUs had already started distributing IEC materials such as tarpaulins and posters to schools particularly those who participated in the said immunization program. These were placed in strategic locations such as gates, canteens, guidance counselor offices, and classrooms of grade 5 and 6 students who were most likely to have been participants of the Dengue Immunization Program two years prior. Letters, with attached flyers, signed by Health Secretary Duque were given to parents of students who were vaccinated.
Among the four LGUs of District 3, City of Manila was given most priority since more than 12,000 individuals were able to receive the said vaccines in this constituent. Last January 12, two meetings consisting of Manila District Health Officials, DOH-NCRO Local Health Support Division Chief Dr. Amelia Medina, OIC-CHO Benjamin Yson, officials, principals, school physicians and nurses of the DepEd Superintendent Office were held to discuss the monitoring sessions and other activities to be conducted within the LGU.
From January 10 to March 23, all 72 schools in Manila were given IEC materials. Fora were also held to answer frequently asked questions (FAQs) regarding Dengvaxia. In a day, two teams are tasked to conduct dialogues with teachers and parents to alleviate some of their worries concerning the well-being of the children.
NCRO also monitored the six (6) LGU hospitals namely Gat Andres Hospital, Justice Jose Abad Santos Hospital, Ospital ng Maynila, Ospital ng Sampaloc, Ospital ng Tondo and Sta. Ana Hospital, all of which have complied to the directive of having Dengue Fast Lanes.
Campaigns were also conducted, including the Dengvaxia Campaign at Baseco, Pedro Gil Health Center, Calic Health Center and Smoky Mountain with 4Ps Beneficiaries wherein students of St. Paul joined the Health Promotion (HEPO) team of the LGU as part of their immersion project. Dengue campaigns at Baseco and other health centers were also held.
In Mandaluyong, all 18 schools have already been given IEC materials. Since March 1-23, fourteen (14) of these have engaged in Dengue Vaccination Fora. Larvicidal/ovitraps had also been installed. A Dengue Fast Lane situated in Mandaluyong City Medical Center was also established.
All 27 schools in Makati who participated in the Dengue Immunization Program were already provided with IEC materials. As of March 23, all 27 public elementary and high schools had initiated their Dengue fora. Makati also holds one Dengue Fast Lane for Ospital ng Makati in which all emergecy cases, including Dengue-vaccinated or not, are immediately being managed. The "Ugnayang Pangkalusugan" about Dengue at Barangay La Paz was also held, in addition to the meeting between Makati Mayor Hon. Mar-len Abigail S. Binay together with the representatives from Sanofi Pasteur.
Same with the other LGUs of District 3, IEC materials had already been distributed to all eight (8) schools in San Juan. These schools had also been given a Dengue Forum/dialogue with parents and teachers. A fast lane is also present at San Juan Medical Center.
Similarly, District 4 LGUs also implemented several activities and programs in support of the Dengue Campaign. In Muntinlupa, Dengue Fast Lanes were established in all 14 health centers (Putatan Main, Putatan Annex, Bayanan Main, Bayanan Annex, Sucat, Tunasan, Poblacion, Cupang, Buli, Ayala, Alabang, Southville, and Victoria). There are also fast lanes at Asian Hospital and Ospital ng Muntinlupa which provides free laboratory services (CBC with platelet, NSI, RDT Testing) to symptomatic patients. Data on the Dengue Immunization Program such as the general master list on Dengue vaccine recipients and reporting of cases accepted in both private and government hospitals are continuously being monitored and updated. Promotional campaigns in the community and in specific public schools are are also conducted. From January 17 to 24, fifteen (15) schools have been given IEC materials on Dengvaxia FAQs and as of March 9, twenty (20) schools have conducted Dengue fora in different elementary schools. NCRO staff and LGU health officials also visited a 13 year-old girl who was a recipient of Dengvaxia.
In Pasay City, IEC materials have been distributed to at least thirty (30) schools. On March 6, NCRO staff conducted a monitoring in five schools to check the status of the installed IEC materials. The Pasay City Health Office continuously conducts Dengue Lay Fora in different schools and barangays with the support of barangay leaders and community members. All health centers also have an established Dengue fast lane with an assigned Medical Technologist. Fast lanes are also present in Pasay City General Hospital and Adventist Medical Center. In addition to these actions, the sanitation office also conducts regular inspection and performs clearing operations to remove all possible breeding sites of mosquitoes within the community. Misting is also regularly scheduled.
As for Las Piñas City, their impact mitigation for Dengvaxia immunization includes direct coordination and consultation with DOH Guidelines, orientation of all health center physicians on Dengvaxia impact mitigation and enhanced dengue surveillance, establishment of technical working group (TWG) composed of National Immunization Program Managers and Dengue Program Managers to lead impact mitigation and standardization of dengue lectures for community assemblies. The LGU health team also developed standard medical certification based on the Dengue masterlist to facilitate patient admissions. They are also coordinating with DepEd nurses regarding protocol for referrals and issuance of vaccination certificates for a speedy and more organized admission process if necessary. The LGU also coordinated with NCRO in facilitating admitted patients for possible financial support. Rapid Dengue Kits in all health centers are also made available. Again, IEC materials are distributed among schools. From January 29 to Feb 30, 16 out of 22 schools were monitored. Las Piñas General Hospital and Satellite Trauma Center (LPGH-STC) also has a Dengue fast lane. As for Las Pinas Medical Center (LPMC), there is no dengue fast lane but they assured that all patients with possible indications of Dengue will be given priority accommodation in the emergency room.
Parañaque City is no exception to these activities. On Januray 24, a monitoring visit was conducted at Ospital ng Parañaque. Additional IEC materials are yet to be posted and there is also a need for a specialized ward for dengue cases. The LGU continuously conducts Dengue Campaign Fora such as "Dengue Advocacy …Integrated Dengue Prevention and Control" which was held last February 2. School dialogues were held at Baclaran Elementary School Central (February 12), San Antonio Elementary School (February 28), La Huerta Elementary School (February 23), Parañaque Elementary School Unit 2 (March 2), Sto. Niño Elementary School (March 6), Col. E. De Leon Elementary School and Tambo Elementary School (March 7).
Overall, all districts have strictly intensified the 4S campaign. The Department of Health has also partnered with Philippine Red Cross to aid in the Dengue surveillance. As a means of improving the monitoring of Dengue cases, Public Health Nurses under the deployment program (NDP) are assigned to act as Dengue Surveillance Officers (DSO) while Public Health Associates (PHAs) serve as Dengue Advocates (DA). In health centers wherein no nurses are assigned, the PHA will act as both DSO and DA. As Dengue Advocates, PHAs are tasked to promote health education; identify patients with signs and symptoms of dengue consulting in the facility regardless of dengue vaccination status; facilitate referral of dengue victims to the nearest public hospital, facilitate forms and give instructions; prepare a daily report of all dengue suspects seen in the facility; and send daily reports to the city DSO. A Dengue Assistance Desk Hotline (DAD) through mobile numbers 0995 911 4629 / 0925496 5388 was also established.
Certain issues raised throughout the monitoring sessions included the fact that IEC materials were lacking, therefore resulting to some schools and health facilities unable to install tarpaulins and posters. Other than this, all LGUs have been actively moving forward and upholding activities in line with the Dengue Campaign. Overall, the regional health agency with the support of DepEd, LGUs and partner agencies who are committed to this advocacy, are continuously exhausting all efforts in seeing to it that a Dengue-free Metro Manila is definitely met.