Actions on Dengvaxia Situation: District I and II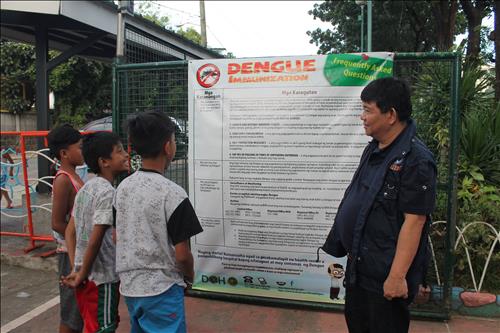 Actions on Dengvaxia Situation: District I and II
By Kristyl Pascubillo
The issue on Dengvaxia has created a stir within the Filipino community, especially the parents of the vaccinated students. Because of this, the Department of Health-National Capital Regional Office (DOH-NCRO) immediately carried out actions to ensure people's safety within the region. The following efforts were implemented in order to address certain concerns from the public regarding dengue and Dengvaxia:
District 1 – Caloocan, Malabon, Navotas and Valenzuala– immediately carried out projects that will guarantee its citizens' well-being while District 2 – Pasig, Taguig, Marikina, Pateros and Quezon City – being the most populous district, has carried out their activities and programs to control the swelling issue of dengue at their own most effective pace. These two (2) districts have carried out their activities by instigating projects and developments that aims to eradicate the danger posed by mosquitoes and by deploying Human Resources for Health (HRH) such as doctors, nurses, public health teams and other health professionals that are all vital to the attainment of Universal Health Care (UHC).
The projects held by these districts are not only limited to the extermination of dengue-carrier mosquitoes but also aims to disseminate information regarding dengue and Dengvaxia. Other health institutions, such as Tinajares Health Center and Ospital ng Malabon – District 1, have created Fever Fast Lanes. Fever is one of the most noticeable and easily detected symptoms of dengue thus, the hospitals and City Health Offices started prioritizing patients with fever, especially those having the said symptom for almost a week since this may be an early sign of dengue. This has been deemed effective as it can also be used as a monitoring system, at the same time a way to avoid a much severe type of dengue as early as possible. Other than this, a monitoring of Dengue Fastlane in Novaliches District Hospital was conducted on March 6, and in Quezon City General Hospital on March 7. In Pasig City, Rizal Medical Center had presented their own Dengvaxia Summarized Consensus which totalled to 262 patients, all of which were fully accommodated. They had also started prioritizing the symptomatic patients with history of Dengvaxia immunization. The availability of Dengue Fast Lanes is now increasing, as the goal of the DOH-NCRO is to provide Fast Lanes in every hospital and health center.
As a means of Dengue prevention in Districts 1 and 2, their cities have expressed plans to fog their barangays, especially those with clustering and reported deaths due to dengue fever. Malabon had initiated its fogging operation, which will eventually be followed by the other cities. The goal is to complete fogging at every district thus the early planning of scheduling of fogging operations.
The month of February was fully scheduled as the district health teams held and initiated all the barangay forums and advocacy in all the cities of District 2. The information dissemination programs regarding the issue of Dengvaxia was not only limited to elementary schools since it was also maid available to the communities. The 4S Campaign Against Dengue was also intensified. Taguig City and Pateros City also conducted Barangay clean-up drives. Quezon City, on the other hand, held a Dengue Surveillance Orientation on March 6. Taguig also heightened their surveillance against Aedes aegypti mosquitoes to prevent increasing cases of dengue patients. This surveillance is not only limited to the existing number of dengue-carrier mosquitoes but this is also a way to maintain the master list copy for every Dengvaxia vaccinated resident. The activity on surveillance was intensified as the dengue advocates check every vaccinated patient by visiting their school or home. To effectively maintain this set-up, City of Pateros mobilized their own Dengue Task Force. In District 1, Caloocan had already conducted many programs like community assemblies on Dengvaxia, open forums, dengue advocacies, and dengue awareness and symposium. The Caloocan City Medical Center of Caloocan City had also created their own Dengue Surveillance Book to guarantee the monitoring of every possible citizen that are at risk. Through gradual changes within the internal system of hospitals and health centers, better organization and systematization were achieved. In every city, the National Immunization Program (NIP) Coordinators of DOH-NCRO, Dengue advocates, and Dengue Surveillance Officers (DSOs) also effectively held meetings to roll out their incoming plans to intensively prevent and control the Dengue virus. In addition to this, Valenzuela City has successfully issued their revised Dengue Prevention and Control Program-Manual of Procedure for the Valenzuela City Public Health Nurses.
Together with the Department of Education (DepEd), these two districts have installed posters, Information, Education and Communication (IEC) materials, and tarpaulins concerning Dengue and Dengvaxia. Other tarpaulins also discussed the Frequently Asked Questions (FAQs) on Dengvaxia and information of 'Free Rapid Dengue Diagnostic Test for early Dengue Detection'. In District 1, the Caloocan City, all 25 elementary schools (100%) have finished installing tarpaulins and posters. 88 tarpaulins were posted in every exit and entrance way of the schools and 297 posters were distributed. As of February 23, Barangay Karuhatan and Barangay Marulas in Valenzuela City have also successfully installed 38 tarpaulins and 46 posters in 42 elementary schools which comprises 23.81% of all the elementary schools in these barangays. The city of Malabon and Navotas will follow through once logistics are available. The posters, IEC materials, and tarpaulins about dengue and Dengvaxia FAQs were also successfully installed at every city of District 2. Taguig City also plans to reproduce flyers and brochures to distribute in their city. In Quezon City on the other hand, reproduction of IEC materials FAQs on dengue were processed by the Office of the Vice Mayor to expedite the installation of these materials. The schools have also successfully conducted open forums to answer queries of teachers, parents and students. Parang Elementary School in Marikina City, for instance, has conducted an open forum which was personally addressed and answered by the Secretary of Health, Dr. Francisco Duque III. Orientation meetings were also done by the City Epidemiology and Surveillance Unit (CESU) and City Health Officers (CHOs) to school principals and superintendents for a more effective understanding of the issue.
Overall, DOH-NCRO together with the Local Government Units (LGUs), health centers and other health institutions had shown great progress towards achieving a Dengue-free region. With all the projects being conducted, the agency commits to continually ensure the safety and well-being of every citizen. Through achieving optimal health and better health care, the health sector will continue conducting projects that will decimate the increasing number of dengue-carrier type of mosquitoes and will also continue to disseminate information regarding dengue and Dengvaxia that would effectively ease the people's concerns.