HEALTHY HEARTS THROUGH DOH HEALTH CLUBS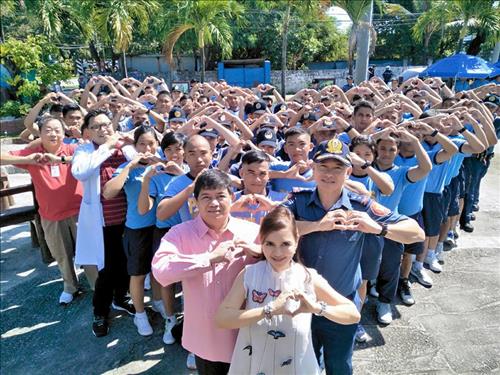 By: Niña Allen Galema
We are faced with an array of positive and negative results of the evident epidemiological shift occurring this generation. It is a fast-paced society, and individuals are almost too immersed in technology and having less priority on fulfilling active and healthy lifestyles. Due to this, non-communicable diseases continue to be the top killers both in the Philippines and worldwide. Of these, hypertension remains to be the leading illness while with diabetes is at par, affecting around 5% of our adult population. These diseases are chronic and irreversible.
In order to address this growing health issue, the Department of Health – National Capital Regional Office (DOH-NCRO) urged the creation of Health Clubs in communities and workplaces last 2017. These focuson the most vulnerable risk groups using two most common and easily detectable clinical manifestations of NCDs: hypertension and diabetes.
Health service staff of several government agencies were thus trained on proper risk assessment, screening, profiling and management of non-communicable diseases specifically on hypertension and diabetes. Such services are made available, including the provision of free maintenance medicines for hypertension and diabetes.
Government agencies such as Government Service Insurance System (GSIS), Senate of the Philippines, National Bureau of Investigation (NBI), Philippine National Police – National Capital Region Police Office (PNP-NCRPO), Department of Budget and Management (DBM), Department of the Interior and Local Government – National Capital Region (DILG-NCR), Commission on Audit (COA), Department of Education – National Capital Region and Department of Social Welfare and Development (DSWD), have already successfully initiated their health clubs.
Among these agencies, employees ranging from 25 years old and above took part in the said health clubs. 1,157 were risk assessed, 631 were identified to be at 30% and above risk for cardiovascular accident, 583 were diagnosed with hypertension, 199 were diagnosed with diabetes mellitus, 261 were diagnosed with both hypertension and diabetes and 1040 are now members of their health clubs.
Meanwhile, the the Supreme Court of the Philippines, House of Representatives, Philippine National Police – Special Action Force (PNP-SAF), Philippine National Police – Highway Patrol Group (PNP-HPG), Armed Forces of the Philippines (AFP), Metro Manila Development Authority (MMDA) and Procurement Service – Department of Budget and Management (PS-DBM) are in the process of organizing their corresponding health clubs. Several other government agencies are scheduled to be oriented this 2018.
As leaders in health, NCRO is persistent in putting new strategies to action in line also with the Sustainable Development Goals. Campaigns are needed to accelerate case detection of patients with risk factors of illnesses which will most likely be found at the early stages of hypertension and diabetes, that is, before the onset of any damage to target organs. Organizing patients into active health clubs is one of the strategies to ensure continuity of care, raise the effectiveness of lifestyle changes and prevent complications.