LAST MILE CARAVAN REACHES THE UNREACHED IN MARIKINA CITY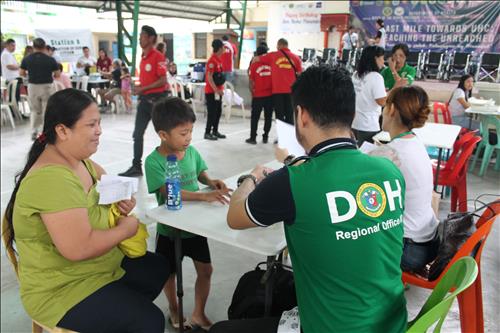 By Joyce Anne Sandajan

The Department of Health - National Capital Regional Office (DOH-NCRO) conducted another Last Mile Towards UHC Caravan, this time in partnership with the Office of the Senate President and various stakeholders. The activity was held at Concepcion Integrated School, Marikina City last January 20, 2018.
The array of health services started from the recording of anthropometric measures to blood typing and random blood sugar testing, risk assessment, medical consultation (triage), health education, child care, vaccination of senior citizens, minor surgeries (and surgery referrals), maternal needs, family planning counselling, dental services, ophthalmology, ENT consultation, basic lab services and TB screening and PhilHealth consultation.
These were made possible through the support and participation of the Department of Social Welfare and Development (DSWD), PhilHealth, Philippine Eye Research Institute (PERI), Commission on Population (POPCOM), National Nutrition Council-NCR (NNC-NCR), Amang Rodriguez Memorial Medical Center (ARMMC), Dr. Jose Fabella Memorial Hospital (DJFMH), Dr. Jose N. Rodriguez Memorial Hospital (DJNRMH), East Avenue Medical Center (EAMC), National Children's Hospital (NCH), Philippine Children's Medical Center (PCMC), Quirino Memorial Medical Center (QMMC), Rizal Medical Center (RMC), San Lorenzo Ruiz Women's Hospital (SLRWH), Valenzuela Medical Center (VMC), Concepcion Integrated School, Office of the Senate President and of course the local government of Marikina City.
This is the third Last Mile Caravan of NCRO since its grand launch last September 2017. With the goal of providing better access to health services for the unreachable population, this caravan extends its services to the Modified Conditional Cash Transfer (MCCT) beneficiaries, particularly the urban poor. This serves as an enhancement of the health agency's preceding Health Outreach for People Empowerment (HOPE) caravans. Initially, the Last Mile was spearheaded by Assistant Secretary of Health Nestor F. Santiago in which the main concept of the program was taken after the United Nations Development Program (UNDP) and United Nations Capital Development Fund (UNCDF) in fulfilment of the Sustainable Development goals (2016-2030).
See full album: https://www.facebook.com/pg/dohncro.hpmru/photos/?tab=album&album_id=1803738842992492