NNC INSTIGATES NUTRITION PLAN IN METRO MANILA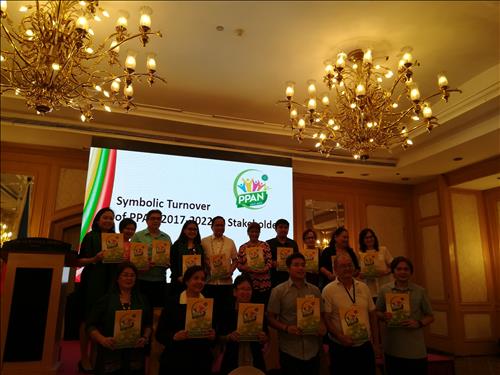 By Joyce Anne Sandajan

"The main problem of concern is the various forms of malnutrition, that is being short-for-age or bansot, being thin-for-age or payat, and being overweight or obese or mataba. Deficiencies in vitamin A, iron, and iodine, and hunger and food insecurity are also concerns that need to be addressed. These nutrition-related problems have been our persistent enemy that we need to conquer if we want to save the lives and future of our children. This is where PPAN 2017-2022 comes in."
These were the words of Regional Nutrition Program Coordiantor Ms. Milagrosa Federizo during the regional launching of the Philippine Plan of Action for Nutrition (PPAN) 2017-2022 at the Heritage Hotel, Pasay City on January 11. This marks as the official launching of the nutrition plan, almost a year after its national kick-off last May 2, 2017 in Iloilo City.
As the country's framework for nutrition improvement, the PPAN 2017-2022 aims to contribute to the Sustainable Development Goals (SDGs), AmBisyon Natin 2040 and Philippine Development Plan 2017-2022 by establishing nutrition-specific and nutrition-sensitive programs. These will essentially target areas or communities with concentrated concerns on malnutrition. The National Nutrition Council - NCR along with the aid and support of all stakeholders involved, henceforth committed to materialize the nutrition plan in order to address the specific nutritional concerns present in Metro Manila.
These partner agencies were represented by Dr. Mary Christine Castro (Nutrition Center of the Philippines), Dr. Jeremias Francis Y. Chan (Department of Health - NCRO), Ms. Joyce Hilvano (Commission on Population - NCR), Dr. Jocelyn Marcial (Department of Education - NCR), Mr. Zotico Villanueva (Department of Interior Local Government - NCR), Assistant Regional Director Manuela Loza (Department of Social Welfare and Development - NCR), Mayor Miguel Ponce (Municipality of Pateros), Dr. Ofelia Viray (Grance Family Helper Project), Ms. Aleta Santos (Hope for the Youth Foundation), Barangay Nutrition Scholar Grace Tamayo (Mandaluyong City), Makati City Nutrition Program Coordinator Femilina Tuazon, Taguig City Nutrition Action Officer Julita Bernabe, Mr. Alberto de Veyra (Food for the Hungry Philippines), Pastor Cesar Lubrico (Tondo Blessed Hope Bible Baptist Church) and Mr. Marvin Capco (Chair, Nutrition Communication Resource - NCR Media Group). Each representative expressed their agency's pledge of commitment in supporting and enacting the tenets of the PPAN 2017-2022.
To motivate and inspire the local government units in revitalizing their strategies in improving nutrition, Mandaluyong CNAO Dr. Pecos Camarines presented their best practices and highlighted programs conducted to overcome malnutrition. In addition to this, Metropolitan Manila Development Authority (MMDA) Undersecretary Frisco S. San Juan, Jr. Usec. San Juan emphasized the need for all stakeholders and partners to converge in order to extract progressive outcomes from PPAN.
Entasked with specifice roles and responsibilities, each agency and LGU guaranteed their support throughout this six-year plan with the hopes of succesfully acquiring the optimum health and nutrition of NCR residents.