DOH RESPONDS TO DENGVAXIA QUERIES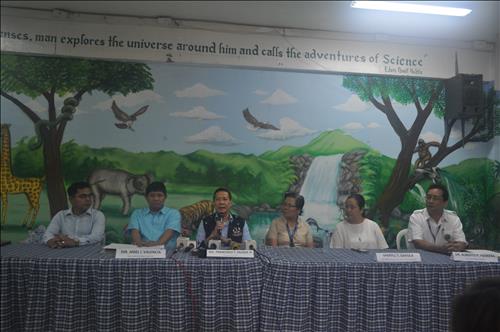 By Kristyl Joyce Pascubillo

The Department of Health-National Capital Regional Office (DOH-NCRO) and Central Office, together with the Department of Education-National Capital Region (DepEd-NCR), held a Dengue Information Drive by conducting series of activities that strengthen the fight against the growing issue on the dengue immunization. To jump-start the information drive, a press conference was conducted at Parang Elementary School, Marikina City on January 11, 2018.
The presscon was attended by Secretary of Health Dr. Francisco T. Duque III, DOH-NCRO Regional Director Dr. Ariel I. Valencia, DOH-NCRO Local Health Support Division Chief Dr. Amelia Medina, DepEd Regional Director Mr. Wilfredo Cabral, Department of the Interior and Local Government (DILG) Assistant Regional Director Mr. Juan Jovian E. Ingeniero, Marikina City Health Office staff and health workers, parents and teachers. Students were also encouraged to participate in the said event.
Secretary Duque formally opened the program by inviting queries regarding issues on Dengvaxia. Some questions were also answered by DOH-NCRO Director Valencia. The open forum helped alleviate the worries of parents and teachers with regard to the well-being of the children who were injected with the Dengue vaccine. Precautionary measures in avoiding cases of Dengue were also reminded. They both emphasized that we must always follow the '4S Against Dengue' (S. Sec. Duque also added another 'S' which stands for 'Surveillance'. Everyone should remain attentive, observant and responsive."Heightened surveillance is the key to Dengvaxia immunization problem," said the health secretary.
Aside from this, the health representatives also invited questions from the media. This time, information regarding Dengvaxia as questioned by the interviewers were shared to the public. Misconceptions and wrong information on Dengvaxia were clarified.
After the forum, Sec. Duque and Director Valencia had set up the Ovi traps and insecticide nets in the classrooms of Parang Elementary School. This is to assure the safety of students against mosquitoes particularly those which may possibly be carriers of the virus. According to Sec. Duque, setting up Ovitraps and insecticide nets will also be done in communities.
Sec. Duque called everyone's attention and reached out to the partner agencies of DOH, teachers, and parents to cooperate with the health sector in fighting the real problem brought about by the Dengue immunization issue. In his closing remarks, he assured that the agency will continue to help all schools affected by the program, yet at the same time they will also exhaust efforts in generally promoting Dengue-free communities.