NCRO ensures an injury-free Metro Manila through Oplan Iwas Paputok 2017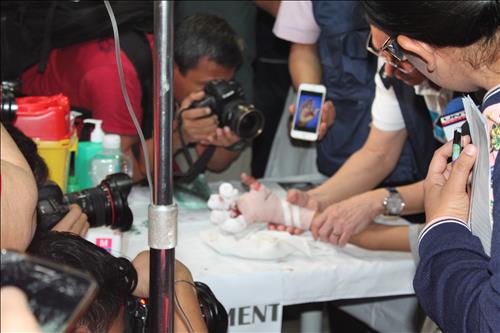 NCRO ensures an injury-free Metro Manila through Oplan Iwas Paputok 2017
By Thea Marie Santiago (Edited by Joyce Sandajan)
It has been a tradition for Filipinos to use loud firecrackers and a barrage of chromatic fireworks in welcoming a new prosperous year under the belief that the loud sounds would drive away negative energy and make way for blessings. However, many of these ear-piercing firecrackers have been the major cause of fireworks related injuries (FWRI) during the past years.
With the alarming number of firecracker-related injuries every new year celebration, President Rodrigo Duterte thus signed Executive Order 28, s. 2017 which limits the use of firecrackers in the country. The E.O. which was signed last June 20, 2017, confines the use of fireworks to "community fireworks display", and that use of illegal firecrackers such as Piccolo, Boga, Sinturon ni Hudas and the like are strictly prohibited.
This 2017, the Department of Health continues its 'Oplan: Iwas Paputok, Fireworks display ang Patok!' to avoid the risk of injuries and casualties in welcoming the new year with a target of zero firecracker-related injuries. Since most FWRI victims range from ages 10-14, DOH, in partnership with the Philippine National Police (PNP) and Bureau of Fire Protection (BFP) relaunched this year's campaign at Antonio A. Maceda Integrated School, Manila last December 4. The students were encouraged to watch community fireworks displays instead of utilizing dangerous firecrackers. In the said event, Undersecretary Gerardo Bayugo along with key officials of DOH-NCRO, PNP, BFP and other partner agencies simultaneously used horns and trumpets as an alternative noise-maker.
As part of the campaign, DOH-NCRO Regional Director Ariel I. Valencia was also invited to the Pasig City Government's 'Paskotitap' last December 10 and Marikina City's merrymaking event on December 30, wherein the two local government units conducted their community fireworks display.
With regards to the information campaign, Health Education and Promotion Officers attended a meeting at City State Hotel last December 13, 2017 to discuss further plans on advocating this year's Iwas Paputok campaign. In line with this, a hospital preparedness monitoring session was scheduled for the last week of December. Director Valencia assisted Undersecretary Gerardo Bayugo at Rizal Medical Center (RMC), Quirino Memorial Medical Center (QMMC) and University of Sto. Tomas (UST) Hospital. On December 30, hospital rounds were conducted at Jose Reyes Memorial Medical Center (JRMMC), Philippine Orthopedic Center (POC), and East Avenue Medical Center (EAMC) this time with Secretary Francisco T. Duque III. A press conference was held thereafter.
During this years's surveillance session, an 11-year-old boy from Pasig City was one of the tended FWRI victims who sustained a blast injury on the right hand caused by 'Piccolo'. According to the official reports, NCR had the most number of cases this year with a total of 248 cases out of 463 nationwide. Majority of these reported incidents were from Manila, followed by Quezon City, Valenzuela, Pasig, Marikina, Caloocan and Mandaluyong.
Nevertheless, due to unending efforts of DOH, PNP, BFP, LGUs and other partner agencies towards the 'Oplan Iwas Paputok' campaign, it has been reported that there is a 27% decrease in firecracker-related injuries from December 21, 2017, to January 5, 2018 as compared to the previous year. Moreover, Sec. Duque expressed his relief that no reported deaths or cases of fireworks ingestion and stray bullet injuries occured this year. In behalf of the health sector, he also expressed his gratitude to the cooperation of the current administration as well as partner agencies in achieving great results for this advocacy. "Overall, the government's campaign against fireworks has reduced the number of injuries. The DOH is grateful for the strong cooperation of our local government units and other government agencies for this success," said Sec. Duque.