DOH provides additonal medical assistance for Mandaluyong City Health Centers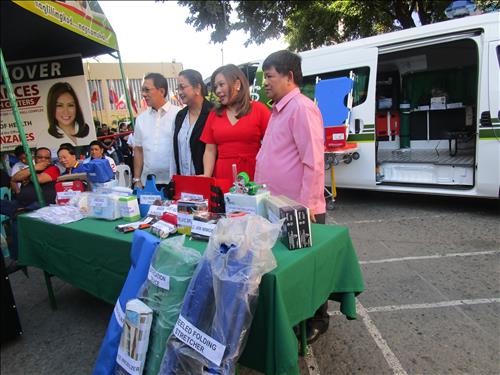 DOH provides additonal medical assistance for Mandaluyong City Health Centers
By Kristy Pascubillo
MANDALUYONG CITY – Hon. Alexandria P. "Queenie" Gonzales once again responds to the qualms of the Tiger City's residents, this time further ensuring that they be given ample health services needed. As a pre-celebration of the congresswoman's birthday on November 13, an Ambulance Turn-over Ceremony between the Department of Health - National Capital Regional Office (DOH-NCRO) and the local government of Mandaluyong City was conducted at Kaban ng Hiyas, Mandaluyong City Hall Complex, November 8. The first batch of ambulances equipped with different medical supplies were turned over by the regional health office intended to be used for the city's health centers.
Eight (8) ambulances out of the 21 units to be provided, were stationed inside the Mandaluyong City Hall grounds. These ambulances consisted of medical equipment such as stretchers, oxygen tanks, BP apparatus, ambubags, minor surgical kits, stethoscopes, suction machines, nebulizers and a communication apparatus for emergency purposes. Immobilization devices were also given.
Present during the ceremony were DOH-NCRO Regional Director Ariel I. Valencia, City Health Officer Dr. Zaldy R. Carpeso, City Mayor Hon. Carmelita "Menchie" A. Abalos and the birthday celebrator herself, Congw. Queenie Gonzales. In his short message, Director Valencia expressed his greetings to the congresswoman while acknowledging and commending all those involved in ensuring optimum health service in Mandaluyong City.
As the health sector works hand in hand with LGUs, the goal of achieving a health care system that is responsive while offering financial protection and better health outcomes will eventually transpire. Through this means, health centers will be able to reach its full potential in providing quality health services. Mandaluyong City therefore continues to be cohesive with the endeavors of the health sector in strengthening and improving its health service delivery networks. This is a progressive move in guaranteeing that the citizens of Mandaluyong receive the appropriate and proper medical amenities essential to their needs.