The LAST MILE journey continues in Quezon City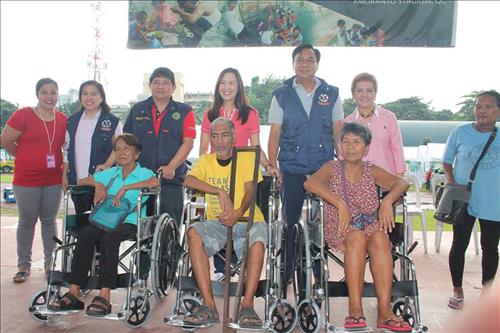 The LAST MILE journey continues in Quezon City
By Joyce Sandajan
Once again the Department of Health-National Capital Regional Office reaches the unreached as the health agency held the 'Last Mile: Towards Universal Health Care' last November 4 at the Amoranto Sports Complex in Quezon City. A total of 2,122 medical and health services were provided. This marks as the second time that the Health Outreach for People Empowerment (HOPE) caravan was introduced to Modified Conditional Cash Transfer (MCCT) beneficiaries.
Regional Director Ariel I. Valencia, Assistant Regional Director Maria Paz P. Corrales and Valenzuela Medical Center Chief Imelda Mateo lead the health professionals in assisting the first wave of participants. They were joined by Assistant Secretary for Health Nestor Santiago and Quezon City Vice Mayor Hon. Josefina G. Belmonte who both gave short messages during the morning program.
Same with the previous HOPE caravans, the participants were offered with an array of health services consisting of the recording of anthropometric measures, blood typing and random blood sugar testing, risk assessment, medical consultation (triage), health education, child care, vaccination of senior citizens, minor surgeries (and surgery referrals), maternal needs, family planning counselling, dental services, ophthalmology, ENT consultation, basic lab services, TB screening and PhilHealth consultation. Wheelchairs were also provided to selected patients who met the specific qualifications and requirements. According to the consolidated reports of the Health Sector Performance Monitoring Unit (HSPMU), the most availed services were BT/RBS and child care totalling to 554 and 413 tallied services respectively.
This event counts as the launching of the Last Mile activity for the northern residents of Metro Manila. Initially, the caravan was jumpstarted last September 5 at the Cuneta Astrodome in Pasay City wherein 1,307 beneficiaries from Pasay, Parañaque and Manila were accomodated.
The last mile towards achieving universal health care is indeed an outstretched path, yet DOH-NCRO unfalteringly continues the journey. Through the cooperation of the Department of Social Welfare and Development (DSWD), PhilHealth, Department of Trade and Industry (DTI), National Nutrition Council-NCR, Philippine Eye Research Institute (PERI), Philippine Society of Public Health of Occupational Optometry, Valenzuela Medical Center (VMC), San Lorenzo Ruiz Women's Hospital (SLRWH), Dr. Jose N. Rodriguez Memorial Hospital (DJNRMH), East Avenue Medical Center (EAMC), Dr. Jose Fabella Memorial Hospital (DJFMH), National Children's Hospital (NCH), San Lazaro Hospital (SLH), Rizal Medical Center (RMC), Philippine Children's Medical Center (PCMC), Quirino Memorial Medical Center (QMMC), and the local government Quezon City, this philanthropic activity conquered great heights once again.