SUPRE RUN 2017: "Take a minute, change a life. Tara usap tayo!"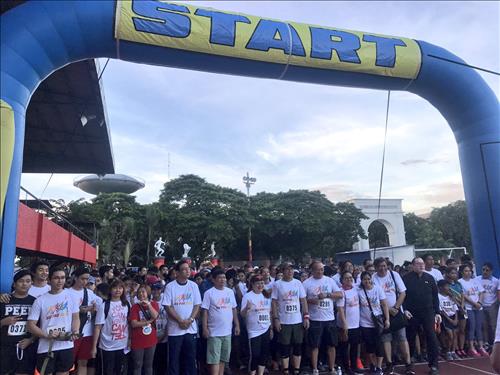 SUPRE RUN 2017: "Take a minute, change a life. Tara usap tayo!"
By Kristyl Pascubillo
(Photo courtesy of MentalHealthPH Twitter Account)
To commemorate World Suicide Prevention Day, the Department of Health, together with mental health advocates and partners, conducted the SUicide PREvention (SUPRE) Run at Marikina Sports Complex last September 9, 2017.
The event's theme, "Take a minute, change a life," was established by the International Association for Suicide Prevention (IASP) together with World Health Organization (WHO). The SUPRE Run was organized through the cooperation of the Natasha Goulbourn Foundation (NGF), Philippine Psychiatric Association, Youth for Mental Health Coalition, Inc. and the support of the social media campaign #MentalHealthPH.
Before the onset of the race, Health Secretary Paulyn Jean B. Rosell-Ubial spearheaded the signing of Pledge of Commitment in celebrating World Suicide Prevention Day and promoting the programs related to mental health awareness. DOH-NCRO Regional Director Ariel I. Valencia together with Local Health Support Division - Program and Health Facility Development Cluster (PHFDC) Head Dr. Laila Celino, also attended the said event.
The focus of the activity is to end the stigma on suicide and its survivors by raising awareness about the mental health issue in the form of community action. During the run, "Take a minute, change a life. Tara usap tayo!" served as everyone's mantra. The advocacy of the run was to prove that communication empowered people in different aspects. While participants were running, the activity allowed them to talk and share each other's emotions. This nurtured a sense of belongingness for the participants, enabling them to share their personal experiences.
Registration for the SUPRE Run was done online and free of charge. Although all participants took the three (3) kilometer-run course, only the first one thousand finishers were given certificates of completion. Bibs and t-shirts were also provided.
To sum up, this simple activity enlightened the runners that even the simple gesture of taking time and asking someone how they are doing will eventually go a long way in helping that person overcome their emotional struggles. As depression, anxiety and other psychological conditions are no laughing matter, this activity became a means to shed a light on how such issues should be seriously addressed.