LAST MILE: REACHING THE UNREACHABLE IN METRO MANILA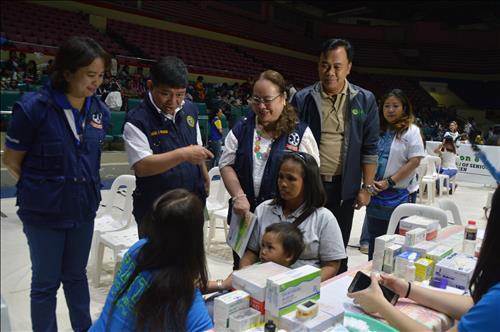 Last Mile: Reaching the Unreachable in Metro Manila
By Joyce Sandajan
More than a thousand residents from Pasay, Manila and Parañaque were provided with health services during the 'Last Mile Towards Universal Health Care: Saang Mang Sulok, Kalusugan Maaabot' held at Cuneta Astrodome, Pasay City on September 5. These residents consisted of 1,307 identified recipients of the Modified Conditional Cash Transfer (MCCT). At the same time, the event was also the grand launching of the Health Outreach for People Empowerment (HOPE) Caravan for the said MCCT benificiaries.
The Department of Health National-Capital Regional Office (DOH-NCRO) through the PHA-Tamang Serbisyo para sa Kalusugan ng Pamilya (PHA-TSeKaP) partners with the Department of Social Welfare and Development (DSWD), PhilHealth and local government units in conducting HOPE caravans. Initially, the HOPE was implemented to address the health needs of underprivileged citizens with the National Household Targeting System for Poverty Reduction (NHTS-PR) beneficiaries as its target population. Now with a broader audience, the health sector through the 'Last Mile' continues to reach the most vulnerable groups of the community who are in serious need of health services.
The event was graced by the presence of Department of Health Secretary Paulyn Jean B. Rosell-Ubial, Assistant Secretary Nestor Santiago, NCRO Regional Director Ariel I. Valencia and Assistant Regional Director Corazon I. Flores. They were joined by representatives from Pasay City Government and DSWD.
A total of 1,307 beneficiaries were given services ranging from medical consultations, maternal needs, dental services, vaccination of senior citizens, and others. Majority of these patients were children aged 1 to 9 years old. In addition to this, wheelchairs were also donated to those highly in need.
Health service providers from the DOH Central Office, East Avenue Medical Center (EAMC), Dr. Jose N. Rodriguez Memorial Hospital (DJNRMH), Dr. Jose Fabella Memorial Hospital (DJFMH), National Children's Hospital (NCH), Valenzuela Medical Center (VMC), San Lorenzo Ruiz Women's Hospital (SLRWH), Rizal Medical Center (RMC), Philippine Children's Medical Center (PCMC), Quirino Memorial Medical Center (QMMC), Philippine Society of Public Health of Occupational Optometry, DSWD-NCR, Department of Trade and Industry-NCR, PhilHealth, National Nutrition Council-NCR, and Pasay City LGU offered their time and effort in making the event possible.