EMPOWERING GIRLS AGAINST HPV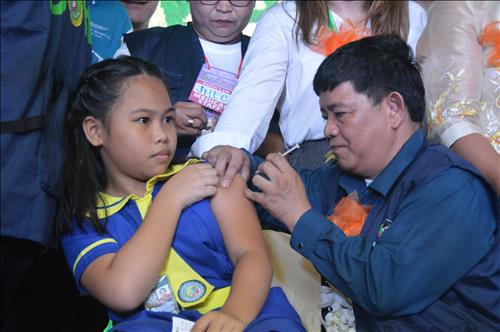 Empowering Girls against HPV
By Ciara Fandiñola
MANDALUYONG – "Women have always been at the heart of the Filipino family and society. They are our mothers, sisters, and daughters. We must ensure their protection against diseases such as cervical cancer" remarked Mandaluyong Congresswoman Queenie Gonzales during the HPV vaccine launch at the Addition Hills Integrated School, August 7.
The Human Papilloma Virus (HPV) causes 99% of cervical cancer among women. Cervical cancer, in connection, is the second leading cause of cancer related deaths worldwide. In the Philippines, more than 6,000 new cases of cervical cancer are diagnosed every year with 12 recorded deaths per day.
This rising concern was immediately responded by the Department of Health through a nationwide immunization program; targeting this year 700,000 female public school students aged 9-12 years old in 47 provinces.
In the launching, a film was presented to both parents and pupils in order to briefly introduce the purpose of the activity. Later, Sophia Edel Gabay, a Grade 4 pupil delivered her message of gratitude.
Quadrivalent HPV vaccines were given with parental consent to 180 Grade 4 pupils. A second dosage will follow in 6 months, subsequently.
The program concluded with a press conference wherein DOH Undersecretary Gerardo Bayugo noted that P650 billion was allocated for the HPV vaccination in 2017 and P400-million in the 2018 proposed national budget.
Meanwhile, the launching of HPV vaccination in Mandaluyong is the fruit of persistence by Congresswoman Queenie Gonzales and City Mayor Carmelita Abalos. It was strongly supported by Dr. Ponciano Menguito, DepEd Regional Director for NCR, DOH-NCRO Regional Director Dr. Ariel Valencia; partners Dr. Nerissa C. Losaria, OIC Schools Division Superintendent and Dr. Corazon Dumlao, Chief of the Schools Health Division who graced the event as well.
Indeed, one of the many ways to uplift women in the society is to give them the power to be educated and protected from diseases like cervical cancer, most importantly from all possible health risks at any age.