Pupils Wave Goodbye to Bulate!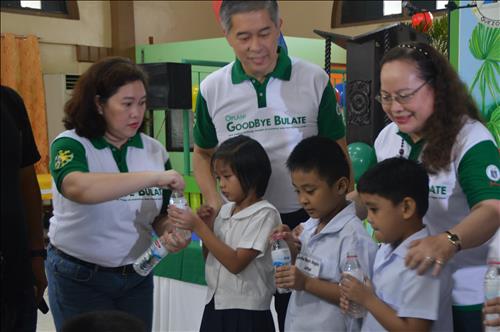 Pupils Wave Goodbye to Bulate!
By Ciara Fandiñola
QUEZON CITY – Ponciano Bernardo Elementary School pupils join together in saying goodbye to Soil-transmitted Helminthiasis (STH) as DOH commenced its annual "Oplan: Goodbye Bulate" National Deworming Month, July 19.
Together with the Department of Education, schools, LGUs and other partners, the activity emphasized the reinforcement of availing free deworming services, maintaining proper hygiene and sanitation to children.
A series of messages from DepEd NCR Director, Dr. Ponciano Menguito and Secretary of Health Paulyn Jean Rosell-Ubial took place; followed by a demonstration of proper handwashing.
Afterwards, anti-helminthic drugs were administered with the pupils and the president of Johnson and Johnson, Director Jeffrey Go, Assistant Secretary of Health, Dr. Maria Francia Laxamana and District Governor Baby Perez Sison of Zonta International.
The National Deworming Month is observed twice a year (January and July) towards the goals of DOH to eliminate intestinal parasitism among children. A synchronized schedule of mass drug administration for STH is done in schools and the community.
The National School Based Deworming month (NSDM) aims to deworm 17,813,379 children in public schools ages 5-18 years old. Meanwhile, Community Based Deworming month (CBDM) targets 10,572,404 preschool children ages 1-4 years old and 15,471,889 children not enrolled in public schools through various health centers and rural health units under the LGUs.
Soil-transmitted Helminthiasis is considered a public health concern by the health sectors because of its effects on the growth and development of a child. It can cause anemia, malnutrition, weakness, impaired physical and cognitive development.