Dial now for a Smoke-Free Environment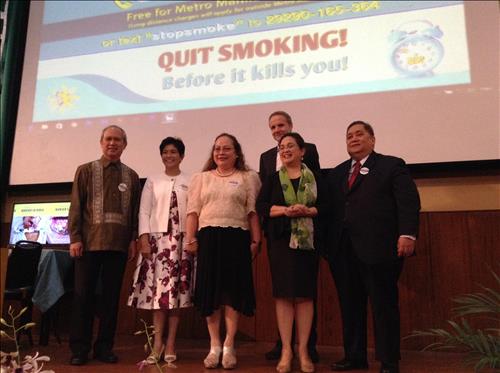 Dial now for a Smoke-Free Environment
By Joyce Anne Sandajan
Adjacent with the nation's current no-smoking month, the Quitline was officially launched at the Philippine Lung Center on June 19. The Quitline is a service hotline is committed to aid smokers to quit smoking. This was established by the Philippine Lung Center under Department of Health and in partnership with the World Health Organization
Quitline offers both a 24-hour hotline and mobile cessation number which smokers can contact anytime. In accessing the hotline, an operator will be asking basic questions such as name, age, location and will initially refer available cessation clinics nearest to the patient. As for the mobile number, services and guidance will be made available through text messages which will be accessible by SMART / Sun Cellular and Globe network users.
This program was developed through the World Health organization – ITU's partnership under the 'Be Healthy, Be Mobile' (BHBM) Initiative which "is a larger movement that looks to exploit to incorporate mobile technology – in particular text messaging and apps – to help combat non-communicable diseases or NCDs," according to DOH.
A ribbon - cutting ceremony was spearheaded by Health Secretary Dr. Paulyn Jean Rosell-Ubial together with Philippine Lung Center Executive Director Dr. Vincent Balanag, Jr., President of the Philippine College of Chest Physicians Dr. Charles Yu, WHO Western Pacific Director for NCDs and Health Life Course Dr. Susan Mercado and WHO Country Representative Mr. Gundo Weiler. Representatives from Metro Manila City Health Offices, the Framework Convention on Tobacco Control (FCTC) Alliance Philippines, Metro Manila Development Authority (MMDA), New Vois Association of the Philippines (NVAP), and the Philippine Pharmacists Society attended the launch.
The Quitline was demonstrated by Sec. Ubial herself, being the first ever caller of the said hotline. Afterwards, an example of the Mobile (M) Cessation service was also shown to the audience. Thereafter, the notable guests entertained a few questions from the media through a quick press conference.
Secretary Ubial had stated that currently, various other means of aids for Filipinos to stop smoking are being considered. One of these is a possible pharmaceutical support to serve as nicotine replacement aids which is currently on the process of drafting by the Philippine College of Chest Physicians. In her message, she expressed the DOH's goal in taking tobacco control to 'greater heights' during the current administration. "We're aiming for no less than 15% prevalency by 2022, so that's by 8 to 9 percentage point reduction; and we hope that these new initiatives of the national Quitline and the M-Cessation programs will actually push this downwards," claimed Ubial.
As of now, the services use Filipino language as its medium however Dr. Balanag claimed that as the program advances, hopefully more languages will be inputted in the system. Smokers who wish to quit may call hotline no. 165 – 364 or simply text 'STOPSMOKE' to (29290) 165 – 354. Services offered are free within Metro Manila, and currently the PLC together with DOH are working towards enabling free mobile services to areas even outside the region.
The DOH is indeed putting their best foot forward towards achieving a smoke – free Philippines. Sec. Ubial highlighted this as she mentioned, "in public health, we say we are saving lives millions at a time and tobacco control is one of the most important public health programs wherein majority preventable deaths are occurring due to tobacco-related diseases."