NATIONAL NO-SMOKING MONTH CAMPAIGN PRIORITIZES YOUTH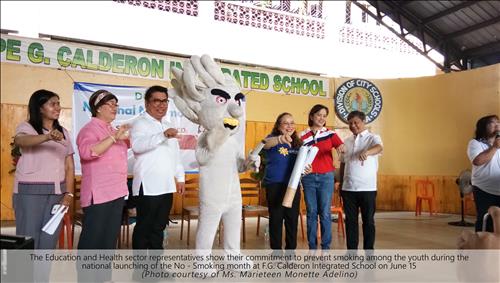 National No-Smoking Month Campaign prioritizes youth
By Joyce Anne Sandajan
The Department of Health (DOH) once again celebrated June as the National No-Smoking Month as this year's campaign carrying the theme "Bes, 'wag magyosi para 'di kadiri," was launched at Felipe G. Calderon Elementary School on June 15.
Elementary and junior high school students participated in the program particularly since the advocacy aims to further reduce the population of Filipino smokers not only among adults but also in children.
One of the tenets of the no-smoking campaign is the strict implementation of Executive Order No. 26 which promotes the establishment of a smoke-free environment by completely prohibiting individuals to smoke in enclosed and public areas. The E.O. which is guided by Republic Act 9211 or the Tobacco Regulation Act of 2003, was signed by President Duterte just this May 16.
The campaign launch, followed by a press conference, was graced by the presence of Secretary of Health Dr. Paulyn Jean Rosell-Ubial accompanied by Manila City Health Officer Dr. Benjamin Yson, and DOH- NCRO Assistant Regional Director Dr. Corazon Flores. Dr. Alejandro Ibañez, DepEd Officer-In-Charge for the Division of Manila was also present.
Graphic warnings similar to those included in cigarette packages were displayed during the program since Department of Health is persistent in reminding the youth the long-term ill effects of tobacco smoking to one's health. This is important considering that five out of ten students from Grades 7 to 10 have been caught smoking during the past three years, as stated by the school's guidance counselor.
According to the 2010 - 2015 data of the Global Youth Tobacco Survey (GYTS) and World Health Organization (WHO), one out of eight Filipino children within the ages of 13 to 15 are tobacco smokers. However, the Food and Nutrition Research Institute (FNRI) had reported a decrease of smoking prevalence among children of ages 10 to 19, dropping from 9.1% in 2008 to 6.9% in 2013.
Secretary Ubial in her message emphasized that despite the worry for the youth's exposure to smoking, she is hopeful that children will remain in control in avoiding any temptation to try smoking. Dr. Yson seconded this by emphasizing that the health sector, together with the Department of Education wishes to prioritize the younger generation. He mentions that the best way to successfully decrease the smoking prevalence is to strictly enforce that children should not initially be curious enough to try it. Thus, the advocacy firmly supports in implementing the complete ban of selling and/or smoking tobacco products within 100 meters close to the school's vicinity.
Hopefully, the school's student council is currently supportive of the no-smoking campaign, as their members actively participated and valued what they learned from the event. Since the health sector aims to focus on the prevalence of smoking among the youth, these students in return assure their commitment in maintaining a smoke-free campus for their fellow students.