NCRO HOLDS SURGICAL CARAVAN FOR HOPE TSEKAP PATIENTS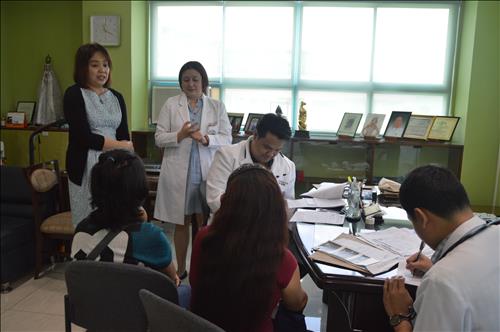 NCRO holds Surgical Caravan for HOPE TSeKaP Patients
By Joyce Sandajan
In line with the guarantees of the Philippine Health Agenda, the Surgical Caravan of the DOH – NCRO was conducted as a follow - up program of the PHA-TSeKaP to realize the provision of surgical intervention to those in need of specific surgical services. This caravan also enhances the service delivery of local government hospitals through technical assistance from DOH Hospitals.
28 patients were identified based on the PHA-TSeKaP conducted during the 1st quarter HOPE caravan for 2017. Major surgeries available consisted of Thyroidectomy, cleft lip repair, cleft palate repair, Cataract surgery (in selected areas only), Herniorrhaphy. Hydrocoelectomy, OB-Gyne cases, Cholecystectomy, Hemorrhoidectomy, and Mastectomy. Those in need of minor surgeries such as excision of breast mass and/or soft tissue masses, circumcision, bilateral tubal ligation and vasectomy were also considered.
The designated referral hospitals were East Avenue Medical Center (EAMC), Amang Rodriguez Memorial Medical Center (ARMMC), Philippine Heart Center (PHC) and Las Piñas General Hospital - Satellite Trauma Center.
Out of the eleven (11) total referred patients in ARMMC, one (1) patient intended to undergo thyroidectomy deferred temporarily due to hyperthyroidism and was advised to take medication for the mean time. Another patient — an infant suffering from hydrocephalus — was brought to the National Children's Hospital for neurosurgery after NCRO and ARMMC coordinated with DSWD to assist the transportation of the patient and guardian.
On a monitoring held on June 21 at ARMCC, a 34 year-old female patient scheduled for surgery had been enduring goiter for sixteen years. When asked why it took her so long to have a thyroidectomy operation, "natatakot po kasi ako," she answered.
"It is a shame that some cease to follow up regarding their case… as long as there are free programs such as these, they should grab the opportunity," remarked Assistant Regional Director Dr. Corazon Flores.
In LPGH-STC, referred patients are still undergoing check-ups and consultations. EAMC and PHC each have one successfully-operated patient. Generally, the rest of the referred patients are still undergoing consultations or could not be contacted. As a resolution, the DOH - NCRO Health Sector and Performance Evaluation Unit (HSPMU) advised that in the succeeding HOPE caravans, detailed information of patients shall be included in registration forms.
Hopefully in succeeding caravans, more patients in need will be given the opportunity to avail such surgical services. This program is just one of the means in providing the residents of NCR immediate response to their health issues by offering the best quality services available without constraining them financially. Through this program, NCRO takes a further step in achieving the goals of the Philippine Health Agenda