NCRO Conducts Sanitation Summit for a cleaner and healthier Metro Manila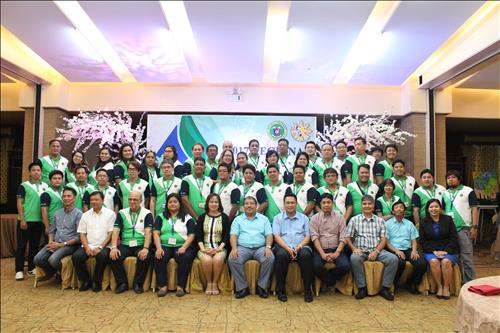 NCRO Conducts Sanitation Summit for a cleaner and healthier Metro Manila
By Joyce Anne Sandajan
A total of 347 sanitation inspectors, and representatives of sanitation facilitating agencies attended the 2017 Regional Sanitation Summit held at the Manila Grand Opera Hotel on May 10-11, 2017. The event was organized by the Environmental and Occupational Health Cluster (EOHC) under the Local Health Support Division of DOH-NCRO.
The summit was opened by Regional Director Dr. Ariel Valencia where he acknowledged the commitment of all professionals in the sanitation field towards the improving status of food and environmental safety in NCR, as reported by recent statistics.
Also present during opening of the program was Dr. Benjamin Yson, City Health Officer of Manila who attended in behalf of Manila City Mayor Hon. Joseph Estrada. Health Secretary Dr. Paulyn Jean Rosell - Ubial on the other hand, was represented by Undersecretary of Health Dr. Gerardo Bayugo who conveyed through his keynote message the importance of transpiring the statistical sanitation conditions of NCR to be transparently experienced by all citizens within the region.
The first day of the summit consisted of lectures on MMDA Sanitation Regulations in Metro Manila, Climate Change Orientation, Ambient Air - Quality Monitoring Program, Updates on the Manila Bay Cleanup (including a discussion on the Writ of Mandamus) and a presentation on the Food Safety Act of 2013.
During the second day, representatives from the Manila Water Company, Maynilad Water Services and the Department of Health Disease Prevention and Control Bureau provided lectures on initiatives and updates of Maynilad and Manila Water Sanitation Status in NCR, Water Safety Policies and Plan in Health Care Facilities, Zero Open Defecation and discussions on Maintaining a Healthy Workplace and Occupational Health for Public Health Workers.
Guest speakers included Director Maria Loida Alzona of the Metro Manila Development Authority – Health, Public Safety, and Environmental Protection Office; Dr. Victoria Molina from the University of the Philippines College of Public Health; Director Vizminda Osorio of the Department of Environment and Natural Resources EMB-NCR; Executive Director Donna Mayor - Gordove from the Manila Bay Coordinating Office; Atty. Emilio Polig from the Food and Drug Administration; Ms. Bernaliza Espina from Maynilad Water Company, Inc. and Atty. Roel Espiritu of Maynilad Water Services, Inc. Representatives from the DOH – Disease Prevention and Control Bureau (DPCB) included Engr. Joselito Riego - De Dios, Engr. Rolando Santiago, Dr. Rene Timbang and Dr. Valeriano Timbang, Jr.
Medical Center Chiefs of Dr. Jose N. Rodriguez Memorial Hospital, San Lorenzo Ruiz Women's Hospital Dr. Alfonso Victorino Famaran, Jr. and Dr. Marilou Nery respectively, along with San Juan City Health Officer Dr. Jesus Esteban Olano, graced the event with their presence.
Towards the end, the newly elected officers of the Sanitation Board made a few announcements regarding future meetings and encouraged everyone to participate in planned activities. A summit pictorial followed thereafter.
The 2017 Regional Sanitation Summit gained commendations as it was the first sanitation summit in NCR that the agency has conducted in a while. During the open fora, many concerns were raised. Thus, all participants and even guest speakers looked forward for another summit to efficiently monitor the progress of the sanitation and environmental health status of the region.
Dr. Corazon Flores, Assistant Regional Director of DOH – NCRO, formally ended the event through her closing remarks in which she thanked all guests and participants. She also congratulated Division Chief of LHSD Dr. Amelia Medina together with head of EOHC Engr. Nilo Marayag and the rest of the staff for a job well done in organizing a prolific event. She then shared a poem to remind and encourage everyone that as advocates of health care, we should be mindful of our actions towards other people and our surroundings; thus, what we do to our environment eventually comes back to us.