THE HIV SITUATION (JANUARY TO JUNE 2017)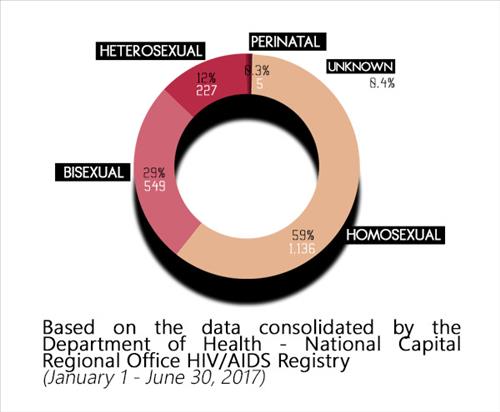 The HIV Situation
By Joyce Anne Sandajan
The Philippines has a relatively low prevalence of HIV and AIDS however during 2001 to 2009, new cases of the virus were reported to have increased to more than 25%. Based on the 2016 data of the Department of Health, the numbers of new HIV-positive cases in the entire country have reached 9,200. Nationwide, 769 HIV-related deaths have been recorded between 1984 and 2017.
In Metro Manila, 932 new cases were confirmed by the STD/AIDS Cooperative Central Laboratory (SACCL) during January 1 to March 31, 2017. The Epidemiology and Health Emergency Cluster (EHEC) of the DOH have compared that this is 2% lower than the cases recorded during the same period last year.
90% of the recently reported cases were asymptomatic, therefore patients were most likely unaware that they were carriers of the virus since no symptoms were projected. Most of the cases were also acquired through homosexual practices. In terms of sex, the first quarter statistics showed that a large number of positive cases were males, mostly aged 25 to 29 years old.
It highly important that all Filipinos are informed whether or not they are HIV positive, particularly since majority of the reports are asymptomatic cases. To date, the Department of Health alongside the National AIDS and STI Prevention and Control Program (NASPCP) highly encourages all Filipinos to avail HIV care services provided by various DOH – Designated Treatment Hubs in NCR and get tested. Congruently, the DOH continuous to ensure universal access to antiretroviral therapy (ART) to all HIV carriers who are in need of treatment.