ARMMC, TARGET TO DEVELOP MARIKINA LGU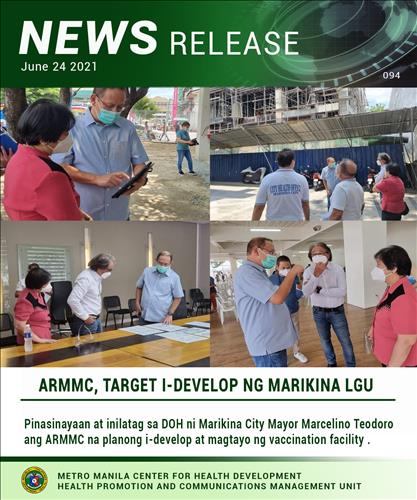 HPMRU News Release No. 094
June 24, 2021
Marikina City Mayor Marcelino Teodoro laid the Department of Health (DOH) Undersecretary and Chief of Staff Leopoldo J. Vega and DOH-NCR Regional Director Gloria J. Balboa is what it plans to do at Amang Rodriguez Memorial Medical Center (ARMMC) on friday, June 18.
This is after the usufruct agreement of ARMMC has been extinguished, a reason for the mayor of Marikina to push the hospital or COVID-19 facility and make a 8-storey building with a complete system like Data Management, Administration and others.
According to Mayor Marcelino Teodoro, it's time to realize that not only Marikina city will benefit, but also nearby cities like San Mateo, Montalban, Antipolo, and Pasig.