SOME EXPERTS FROM ISRAEL SHARE THEIR TECHNICAL EXPERTISE IN VACCINATION AGAINST COVID-19 IN THE PHILIPPINES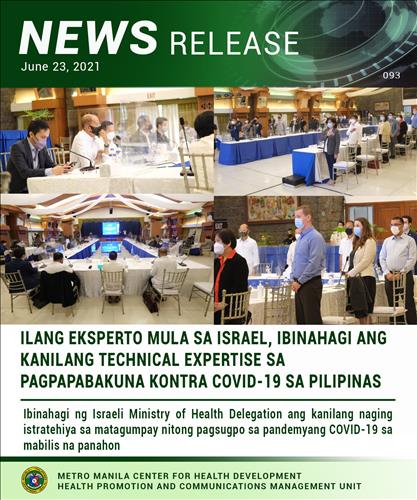 HPCMU News Release No. 093
June 24, 2021
The Israeli Ministry of Health Delegation has started helping the vaccination program of the Philippines by sharing their strategy for successful response to the COVID-19 pandemic in a fast time.
Several Israeli medical experts, Mr. has been reported to have arrived in the Philippines Avraham Ben Zaken, Mr. Adam Nicholas Segal, and Ms. Dafna Segol last Sunday, June 20 and will last until June 25, to support the country's fight against COVID-19.
The Philippine government welcomed Israel's experts at Camp Aguinaldo in Quezon City on Monday, June 21 to start the meeting aimed at helping the country improve the ongoing vaccination in Filipinos.
Kabilang sa mga dumalo ay sina Department of Health (DOH) Secretary at Inter-Agency Task Force for the Management of Emerging Infectious diseases (IATF-EID) Chairperson Francisco Duque III, Defense Secretary at National Task Force Against COVID-19 (NTF) Chairperson Delfin Lorenzana, NTF Chief Implementer Secretary Carlito Galvez, Jr., NTF Deputy Chief Implementer Secretary Vince Dizon, Health Undersecretary and National Vaccination Operations Center (NVOC) Chairperson Myrna Cabotaje, DOH-NCR Regional Director Dr. Gloria Balboa, at Embassy of Israel to the Philippines Deputy Chief Mission Nir Balzam.
Aside from the effective vaccine strategy against COVID-19, experts of Israel Ministry of Health also shared their strategy on vaccine deployment, cold chain and logistics management, and data management and reporting.
Israel is one of the countries that has withdrawn its outdoor face mask policy after its majority population was vaccinated.