DOH, JOINED THE GROUNDBREAKING CEREMONY OF 3 STOREY OPD CLINICS AND WAREHOUSE IN VALENZUELA CITY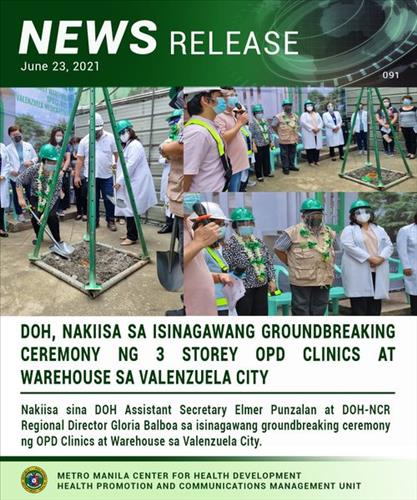 HPCMU News Release No. 091
June 24, 2021
Department of Health (DOH) in solidarity specifically Assistant Secretary Elmer G. Punzalan and MMCHD Regional Director Gloria J. Balboa at the groundbreaking ceremony of three (3) storey OPD clinics and warehouse held at Padrigal St. Karuhatan, Valenzuela City, on Tuesday June 22.
The groundbreaking ceremony was successful under the leadership of Valenzuela Medical Center (VMC) Chief II Dr. Maria Estrella Litter.
In his message, he said the new VMC infrastructure project aims to provide public service.
Meanwhile, Chief of Medical Professional Staff II Dr. also attended the ceremony Mary Grace Reyes, OPD Head Dr. Leah Gato, Chief Nurse Ms. Dona Salmos, Chief Administrative Offfficer Ms. Shirlene Vianzon, Ms. Rufina Vadil, Engr. Zoraida Cuadra, Engr. Roselito Cortez, Engr. Gerardo Lingat and other employees of VMC.