DOH HOSPITALS OF METRO MANILA RECEIVED AMBULANCE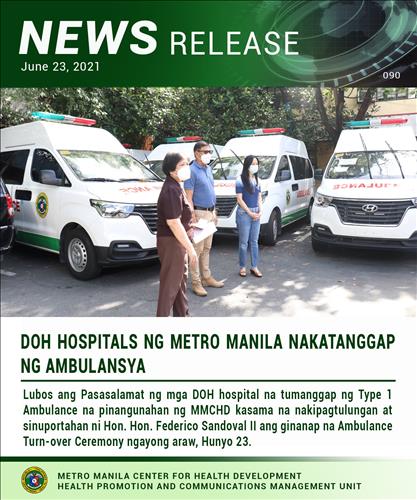 HPCMU News Release No. 090
June 23, 2021
Welcome to Philippine Children's Medical Center (PCMC), Philippine Heart Center (PHC), National Kidney & Transplant Institute (NKTI), East Avenue Medical Center (EAMC), Lung Center of the philippines (LCP), Tondo Medical Center (TMC), at National Center for Mental Health (NCMH) the Type 1 Ambulance in the Amphitheater of Metro Manila Center for Health Development (MMCHD).
The Health Facilities Enhancement Program (HFEP) led the ambulance turn-over ceremony with representatives of hospitals receiving ambulance to accelerate public service.
Mr. is doing an orientation Paul Santos of S & S and Mr. Hyundai's Mark Navales on how to use Medical Transport and Equipment of type 1 ambulance.
Participated by Hon. Federico Sandoval II with his partner Dir. Jeannie Sandoval who supported and helped provide beautiful classes of ambulances that hospitals can use.