AUSTRALIAN EMBASSY AND UNITED NATIONS POPULATION FUND (UNFPA) REACHES HELP TO DR. JOSE FABELLA MEMORIAL HOSPITAL FOR PREGNANT AND GIVING BIRTH DURING THE PANDEMIC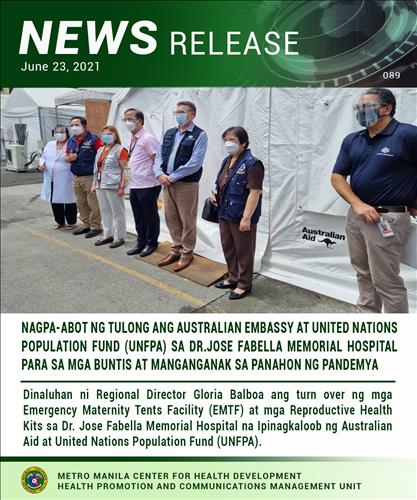 HPCMU News Release No. 089
June 23, 2021
Australian Embassy quickly responded to Dr's plea with UNFPA assistance Jose Fabella Memorial Hospital to ensure the safety of mothers and health workers in the midst of pandemic. UNFPA wants to ensure pregnant women that they will still receive full care from our healthcare workers.
In contact with the Australian Embassy and UNFPA, they were able to reach out to the country through maternity tents. It has been launched to deliver assistance to pregnant women subject to complicated or normal birth during the pandemic. The estimated size of tents awarded by Australian Aid and UNFPA to Dr. Jose Fabella Hospital will reach 42 square meters. The size of these tents are sufficient for births, equipment needed at birth and healthcare workers to care for patients.
So much joy and gratitude from Dr staff. Jose Fabella Memorial Hospital for the assistance given by the Australian government and UNFPA. Regional Director Gloria J. also reached out gratitude Balboa of Metro Manila Center for Health Development (MMCHD) paying attention to the request of Fabella's healthcare workers to address the needs of the increasing number of pregnant women.