P & G REACHES SUPPORT TO MMCHD BY PROVIDING HYGIENE PRODUCTS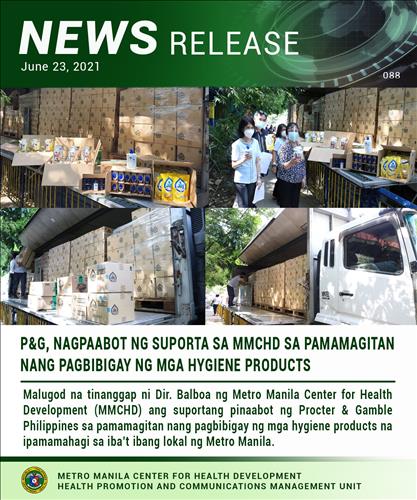 HPCMU News Release No. 088
June 23, 2021
Procter & Gamble philippines (P & G) donated hygiene products to Metro Manila Center for Health Development (MMCHD) to be distributed to 17 Local Government Units (LGUs) of Metro Manila.
Very welcome by the Dir. Gloria Balboa the donations to be brought to Pasig Warehouse to distribute to 8,000 households in depressed areas of the region.
Dir is very grateful. Balboa on donations and support delivered by P & G philippines. The donations to be distributed can be used by local governments in their ′′ Demand Generation Activities ′′ to maintain hygiene and promote BIDA Behaviors amid the pandemic.