NCRO Personnel participate in CPR-ready campaign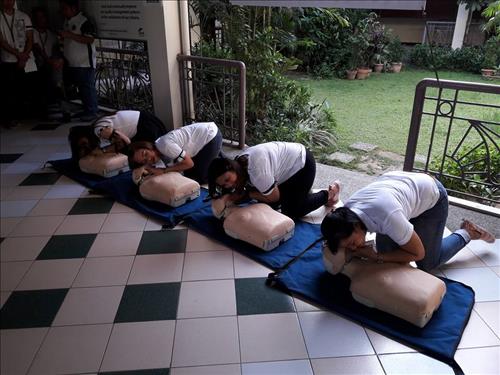 NCRO Personnel participate in CPR-ready campaign
By Ciara Fandiñola / Alexander Concepcion
Education on basic life support such as the cardiopulmonary resuscitation (CPR) is considered a significant skill for health workers especially in times of emergency and saving lives.
Thus, in celebration of the 2nd nationwide mass campaign on CPR, the DOH – NCR Office in coordination with the Philippine Heart Association and the PHA Cardiopulmonary Resuscitation Council, 120 personnel joined the demonstration of Hands-Only CPR at the Business Center, March 6.
This activity occurred shortly after the morning's flag ceremony and everybody was directed to proceed to the designated venue, registered and watched the brief Video presentation.
Director Ariel Valencia, Assistant Regional Director Corazon Flores, Local Health Division Chief Dr. Amelia Medina, and Regulations, Licensing and Enforcement Division Chief Dr. Jeremias Francis Chan commenced the program as they lead the demonstration of Hands-Only CPR.
A step-by-step presentation was discussed using the provided mannequins. This exhibition was then followed by different personnel called in front, arranged in groups of four.
As the activity capped off, all participants returned to their respective offices with a certificate of attendance.
This mass campaign on CPR was made possible through the efforts of the Epidemiology and Health Emergency Cluster (EHEC), spearheaded by Dr. Philip Patrick Co, cluster head.