Celebrate, Remember & FIGHT BACK!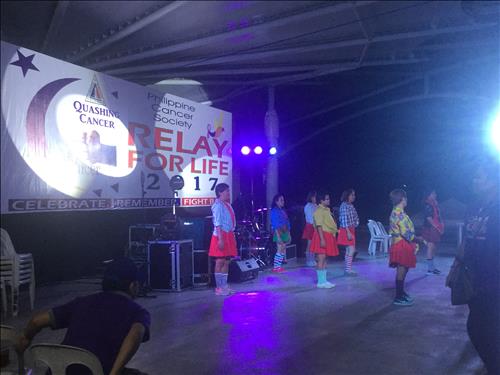 Celebrate, Remember & FIGHT BACK!
By Danica Lou Villena
The DOH-NCRO joined the annual Advocacy and fund-raising event of the Philippine Cancer Society (PCS) dubbed as "Relay for Life" last March 10 - 11, 2017 at the Quezon City Memorial Circle with the theme, "Quashing Cancer: Celebrate, Remember, Fight Back."
The event lasted from sunset to sunrise which is reflective of the cancer journey: a long and difficult one. As a symbol that cancer never sleeps and the endless fight against it never stops, participants join the vigil together with the cancer patients and survivors. They took turns walking laps all night around the Quezon Memorial Circle to signify the continuous battle against cancer.
A Eucharistic Mass at 10 in the evening was presided by Fr. Renato Lejeralde followed by the Luminaria or the Candle lighting ceremony, which is the highlight of the event.
Luminaria is a ceremony wherein paper bags containing candles were placed all around the venue and illuminated after dark. The candles were lit in memory of those who lost the battle against cancer and in honor to those who are currently fighting against it.
Prayers and messages from the representatives of the Ostomy Association of the Philippines, Kasuso, Aruga, Cancer Fighter, PGH Cancer Survivor, Brother Philippines, Inc., and Excelsis Pharma (Gapan Drug) were offered during the Luminaria.
Moreover, participants showcased different talents during the earlier part of the program. Each presentation exhibited stories and experiences in their battle against cancer. Health education was given likewise for awareness of health risks that may lead to cancer.
Different cancer organizations took part in the event, such as the Ostomy Association of the Philippines, Kasuso, Aruga, Cancer Fighter, PGH Cancer Survivor, PGH Pedia Onco, Child Haus, Taguig Support Group, Antipolo Support Group and partners Department of Health, Philippine Society of Oncologists, Quezon City Hall, Excelsis Pharma, and Brother Philippines, Inc.
Proceeds of the event will be used to support PCS in its outreach program for breast examination and pap smear, free clinical consultation and medical assistance for early stage breast cancer patients and its patient navigation program.
The relay capped off with a dance number all together with the participants and organizers emphasizing that that every step, voice and hand matters in this fight against the big C; Celebrate the lives of people who have fought cancer and remember our loved ones who lost against the disease.