NCRO Buckles up for 'The Big One'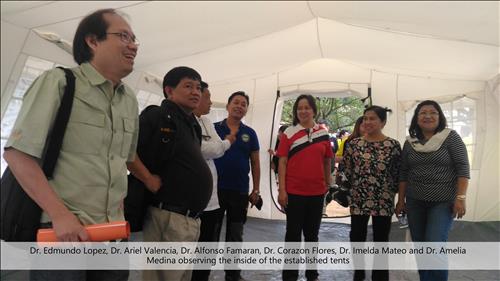 NCRO Buckles up for 'The Big One'
By Joyce Sandajan/ Alexander Concepcion
To prepare health workers for the looming catastrophe to occur at the West Valley Fault, a Disaster Preparedness Plan has been established by the DOH-NCRO. Through this initiative, the agency guarantees proper planning, financing, manpower, facilities, logistics and carrying out of drill exercises. Coordination with necessary agencies involved is also strengthened. Thus, the agency is currently updating the Regional Disaster Risk Reduction Management for Health (DRRMH) Plan.
The plan involves hazard analyses, mapping, with risk and vulnerability assessments. Facilities will be available in the DRRMO Command Center and operation and coordinating centers (OpCen) in NCRO, Central Office and local government units. OpCens, medical posts and various essential logistics are also accessible in the four quadrants of NCR in support to the Oplan Yakal Metro Plus of the MMDA-Metro Manila Disaster Risk Reduction and Management Council (MMDRRMC).
These logistics include highly important emergency items and medical equipment such as tents, camping beds, hygiene kits, hard hats, generator sets, oxygen tanks, first aid kits, medicines and many others. These are stored not only in quadrant container vans but also in warehouses of NCRO, LGUs and other agencies. Emergency transport vehicles and ambulances will also be provided.
The NCRO Quadrants are located at Veteran's Memorial Medical Center (VMMC) for the North Quadrant, Villamor Air Base Golf Course for the South Quadrant, Intramuros Golf Course for the West Quadrant and LRT2 Santolan Station Depot for the East Quadrant.
The DOH-NCRO OpCen will be maintained functioning at its current location and shall serve as an additional facility for information dissemination, report generation and validation. Such documents will be furnished to the central office OpCen and other partners.
In case of an emergency/disaster occurence, the OpCen will activate Code Red and Incident Command System (ICS). DRRM point persons and identified Emergency Medical and Response Teams will serve as manpower. A code alert system will be followed to serve as the region's primary warning system whilst a two-way radio scheme is also being practiced for emergency communication purposes.
The agency is also continuously conducting capability building activities to health staff and partners which include regular earthquake drills, tent drills and turn-over of in demand facilities.
Coherent with this, two activities were held at Dr. Jose N. Rodriguez Memorial Hospital (DJNRMH), Caloocan City in order to capacitate health personnel in the event that the "Big One" shall occur.
A hospital drill was conducted on March 2 to train staff how to assemble and dismantle field hospital tents provided by UNICEF. DJNRMH also provided various equipment utilized during the drill. Present during this event were officials led by RD Ariel Valencia, ARD Corazon Flores, LHSD Division Chief Dr. Amelia Medina and Medical Center Chiefs of the four retained hospitals.
Subsequently on March 8, the DJNRMH also hosted the ceremonial turn-over of water tanks from Maynilad Water Services, Inc. to the regional health office. As one of the agency's partners in ensuring the disaster preparedness, the Maynilad Water Services, Inc. commits to build areas where stationary water tanks will be made available and accessible to the residents within the northern parts of Metro Manila. The activity was also graced by the presence of Dr. Valencia and Dr. Flores with Maynilad's representatives composed of Engrs. Conrado Soriano and Francisco Arellano.
Furthermore, NCRO is to coordinate immediately with the Central Office, LGUs and corresponding partners in case of a calamity. As of now, the regional office is strengthening its partnership with other sector agencies. Regular sectorial meeting with the local government units are also being held. All stakeholders are continuously committed in sharing information and resources among each other.
The health sector and its partners are exhausting all efforts in ensuring the health and safety of its constituents most importantly during times of calamities. The 'Big One' may be inevitable but the DOH-NCRO will continue to be vigilant. "We may not be able to avoid it, but at least we can prepare for it," as stated by Dr. Valencia.
One' may be inevitable but the DOH-NCRO will continue to be vigilant. "We may not be able to avoid it, but at least we can prepare for it," as stated by Dr. Valencia.
The 'Big One'
Scientists project that the movement of the West Valley Fault is possible anytime and is capable of generating a magnitude 7.2 earthquake. According to Phivolcs Director Renato Solidum, Jr., such earthquakes with high magnitudes would also have longer durations thus, all types of preparation must be efficiently put in place to minimize casualties.
The West Valley Fault extends a hundred kilometres across Laguna, Cavite, Bulacan and parts of Metro Manila through Quezon City, Marikina, Makati, Pasig, Taguig and Muntinlupa, In a study conducted by the Metropolitan Manila Earthquake Impact Reduction Study (MMEIRS) in 2004, damages will largely affect the distinct locations and those nearby.
The last major earthquake that was recorded to have originated from the fault occurred way back in 1658. With a recurrence interval of 400 to 500 years, it is high time that everyone maximize all means to be equipped and prepared in the indefinite time that the major earthquake shall occur