OSMUN, ASIAN HOSPITAL WITH DOH BEGIN SIMULTANEOUS SPUTNIK V ROLLS OUT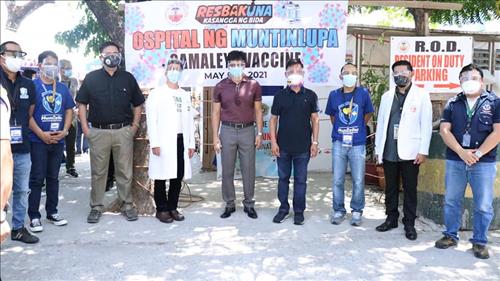 HPCMU News Release No.061
May 5, 2021
Today, The Ospital ng Muntinlupa (OsMun) and Asian Hospital Medical Center (AHMC) simultaneously started the rollout of Russia's Gamaleya Research Institute's COVID-19 vaccine, Sputnik V distributed by the Department of Health (DOH).
The City Government of Muntinlupa received 3,000 vaccine ampules and divided them to give OsMun and Asian Hospital 1,500 vaccine ampules each.
In strict compliance with the cold chain management, OsMun picks up the Gamaleya-Sputnik V vaccine from AHMC since only the Asian Hospital has the storage facility that can keep vaccines up to -18 degree Celsius.
Both hospitals inoculated A1, A2, and A3 priority groups.
The Muntinlupa City rollout was attended by Metropolitan Manila Development Authority (MMDA) Chairman Atty. Benjamin Abalos Jr., Muntinlupa City Mayor Jaime R. Fresnedi, Asian Hospital Medical Center Medical Director Dr. Jose Acuin, Ospital ng Muntinlupa Hospital Director Dr. Edwin Dimatatac, MMDA Public Chief Information Officer Director Sharon Gentalian, City Health Department Officer in charge Dr. Juancho H. Bunyi, and Muntinlupa Representative Congressman Ruffy Biazon.