LABOR DAY SIMULTANEOUS COVID-19 VACCINATION OF ECONOMIC FRONTLINERS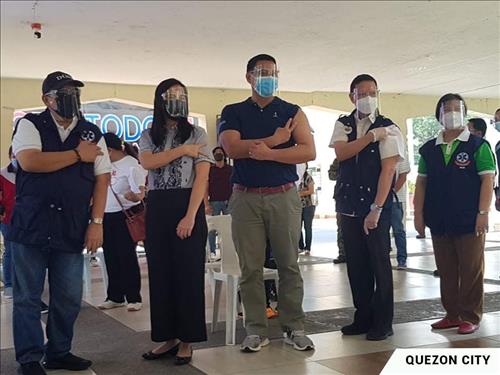 HPCMU News Release No.059
May 1, 2021
Secretary Francisco T. Duque III of the Department of Health (DOH) today visited the Quezon City Hall Covered Walk to show his full support for the efforts done by the local government of Quezon City for COVID-19 vaccination.
Honorable Mayor Maria Josefina G. Belmonte, who was present during the event, spearheaded the setting-up of the vaccination activity. The program aimed to hold the symbolic vaccination of more than 100 economic frontline workers who belong to the A4 category this Labor Day celebration. Assistant Secretary Elmer G. Punzalan, DOH-Metro Manila Center for Health Development Regional Director, Dr. Gloria J. Balboa and Local Health Support Division Chief, Dr. Amelia C. Medina joined Sec. Duque in this significant activity for COVID-19 response in Quezon City.
A similar symbolic vaccination activity at Lakeshore Hub in Taguig City was organized In the site, 82 individuals coming from the economic workforce received their vaccination Honorable Mayor Lino Edgardo S. Cayetano, Secretary Vivencio B. Dizon of the National Task Force Against COVID-19 and Chairman Benjamin C. Abalos, Jr., Chairman of the Metropolitan Manila Development Authority graced the event.
Several government heads attended the vaccine rollout for A4 priority group of the City of Manila. Among the officials who showed their support were Secretary Silvestre H. Bello III of the Department of Labor and Employment (DOLE); Secretary Ramon M. Lopez of the Department of Trade and Industry (DTI); Secretary Isidro S. Lapena of the Technical Education and Development Authority (TESDA) and Honorable Francisco M. Domagoso, Mayor of Manila.
Likewise, the rest of local government units in Metro Manila, except Pasig City, held their ceremonial vaccination of economic frontline workers that included local workers and returning Overseas Filipino Workers (OFW). The Regional Vaccination Operations Center (RVOC) reported that a total of 1,013 local workers and 1,372 OFWs were inoculated giving the region 2.385 clients during the Labor Day vaccination rollout activity.
Moreover, concerted efforts aimed at achieving herd immunity and fighting COVID-19 in Metro Manila and in the whole Philippines as well.