MAKATI RECEIVES 3000 GAMALEYA-SPUTNIK V VACCINES FROM DOH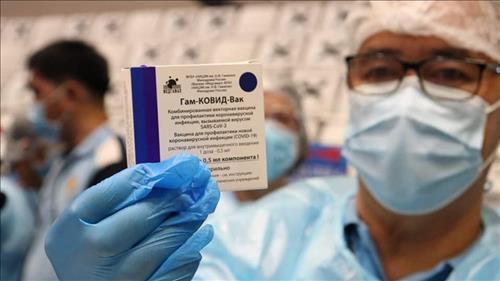 HPCMU News Release No.057
May 4, 2021
Among the five cities to use the Russian-made COVID-19 vaccine, Makati City has received the 3000 Gamaleya Sputnik V vaccines from the Department of Health and started its vaccination to its COVID-19 vaccine pre-registered citizens today at the Makati Coliseum following the arrival of 15,000 vaccines on May 1.
The Makati Coliseum vaccination team received 900 vaccine ampules and has been very strict with Russian-made vaccine cold-chain and process, maintaining -18 degrees Celsius and accepting only the pre-registered citizen.
Team from the National Vaccination Operation Center (NVOC) came to visit and monitored the vaccination site.
On the other hand Sec. Vince Dizon, Testing Czar and Deputy Chief Implementor of National Task Force against Covid 19 visited the vaccination site with the OIC Cty Health Officer and Medical Director of Ospital ng Makati De Vergel Binay, and the City Administrator Claro Certeza.
According to Sec. Dion, the remaining 485,000 Gambleya-Sputnik V vaccines are expected to arrive this month and an estimated 1 million doses of Sinovac on May 7.
Also, he stated that the selection of five cities-Makati, Manila, Paranaque, Muntinlupa, and Taguig varied with the City's capacity on the storage and training.
Meanwhile, according to Holand Unson, Incident Management Team Commander that there are 35,000 individuals who received their COVID-19 vaccine shot and has 100,000 people registered in their system.
The City Government of Makati is continuously vaccinating the eligible group.