SEC. DUQUE LEADS EVA MACAPAGAL COVID-19 ISOLATION FACILITY INAUGURAL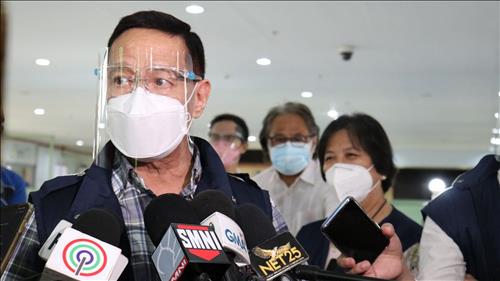 HPMRU News Release No. 055
April 26, 2021
Secretary Francisco T. Duque III of the Department of Health (DOH) and Chairman of the Inter-agency Task Force for the Management of Emerging Infectious Diseases (IATF-MEID) today led the team of government officials in the opening program of the Task Unit Eva Macapagal Super Terminal COVID-19 Isolation Facility at Pier 15 at South Harbor in Port Area, City of Manila.
With the increasing cases of COVID-19 in the National Capital Region (NCR), quadrant A of the Eva Macapagal Super Terminal was opened for all those individuals who will be diagnosed positive for COVID-19. This quadrant A is a 45 bed-capacity isolation facility for asymptomatic patients and/or those with mild symptoms who need isolation. This can also serve as a step-down care facility for recovering patients. The expansion will serve as an opportunity to help decongest hospitals to cope with the surge of COVID-19 cases.
On behalf of the Philippine Ports Authority (PPA), Atty. Jay Daniel R. Santiago, its General Manager, warmly received the contingent of officials. Secretary of Health, Francisco T. Duque III, along with other government officials, namely: Undersecretary Ricardo B. Jalad, Administrator of the Office of Civil Defense (OCD) and Executive Director of the National Disaster Risk Reduction and Management Council (NDRRMC); Undersecretary Artemio U. Tuazon of the Department of Transportation (DOTr); and Secretary Vivencio B. Dizon, Deputy Chief Implementer of the National Task Force Against COVID-19 (NTF), shared their special messages on the importance of inter-agency collaboration in establishing additional isolation and treatment facilities for COVID-19 patients particularly in Metro Manila.
Other officials who graced the event were Admiral George V Ursabia Jr and Vice Admiral Eduardo Fabricante, both of PCG; and Mr. Dominador Bustamante of Asian Terminals, Inc.;
Undersecretary Leopoldo J. Vega with Assistant Secretary Elmer G. Punzalan, Regional Director Dr. Gloria J. Balboa, Assistant Regional Director Dr. Maria Paz P. Corrales and DOH-Metro Manila Center for Health Development (MMCHD) staff.
Commodore Luz L. Escarilla, a medical doctor and currently the Head of the Task Group Quarantine Facility and Commander of the Civil Relations of PCG, guided the officials and other guests on a walk-through and inspection of quadrant A of the isolation facility.
Basic health protocols for COVID-19 prevention were observed during the program.