NCR BHWs elect new Board Members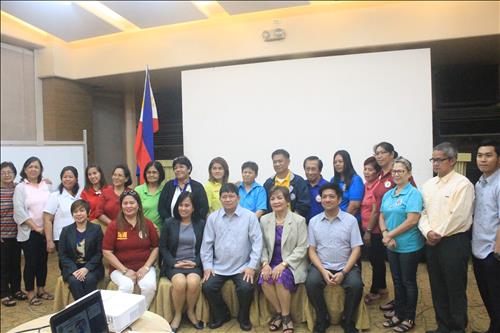 NCR BHWs elect new Board Members
By Joyce Anne Sandajan / Alexander Concepcion
MANILA – The NCR Barangay Health Workers Confederation (BHWC) Board held the induction of members at the Manila Grand Opera Hotel, February 28.
Regional Director Ariel I. Valencia administered the oathtaking ceremony assisted by Dr. Reinhard Dalumpines and Dr. Leila Celino, cluster heads of the Field Operations and Program for Health Facility Development, respectively.
The board of directors consisted of Myrna Gaite as President, Avelina Tayamora and Milagros Olpoc as Vice Presidents. Likewise, Rizalyn Rosas, Mabel Napoles, Remedios Jogno, Dolores Manalo and Cora Guerrero were elected as secretary, treasurer, auditor and business managers correspondingly. Rossanna Guilas, Luz Abulencia, Dolores Dawa and Daniel Galez, Sr. were elected public relations officers for Districts I to IV.
Salvador Nombrado, Yolanda Estabillo, Angelita Tan, Soraya Ladrido, Nemensia Antonio and Glenda Porlaje, meanwhile, were selected as members of the Board of Trustees.
BHWC National President Zenaida Pulido updated the audience on the different confederation activities, while Coordinator Maria Teresa Santiago tackled RA 7883 (BHW Act) covering progress of the performance-based incentives for existing BHWs.
Following the oathtaking ceremony, planning for the 2017 Regional BHW Convention ensued which was a major agenda item during the meeting along with the presentation of an updated roadmap, amendment to SEC Registration, utilization reports, master list and ID issuance.
As the meeting draws to a close, Director Valencia extended his congratulations to all elected BHW officers for this coming term 2017, as well as acknowledged the members for demonstrating a very strong spirit of volunteerism.
He finally encouraged them to remain steadfast in their commitment to transparent public health service by saying, "at the end of the day, sunlight will always be there penetrating every nook. Doon natin masasabi na 'I am a faithful and good servant'… Binigyan tayo ng opportunity to serve others, and as we serve others, as they say, we change the world."