DIR. BALBOA VISITS MEGA TTMF IN MUNTINLUPA CITY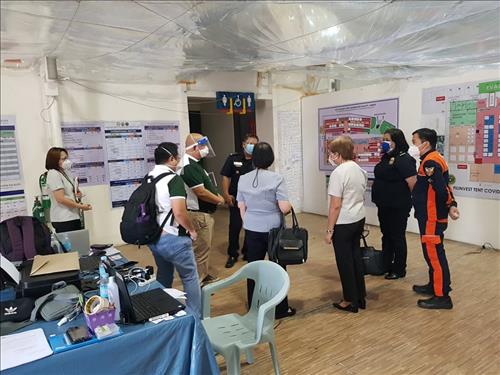 HPMRU News Release No. 51
April 20, 2021
Dr. Gloria J. Balboa, Regional Director of the Department of Health – Metro Manila Center for Health Development (DOH-MMCHD) yesterday officially visited the Filinvest Tent in Alabang, Muntinlupa City, one of the designated "We Health As One Center," in Metro Manila. The Filinvest Tent is a Temporary Treatment and Monitoring Facility (TTMF) for individuals tested positive for COVID-19 but with mild to moderate symptoms and those who need to be isolated.
The Filinvest Tent "We Heal As One Center" is established by the Filinvest City Foundation, Inc., in partnership with the Inter-agency Task Force for the Management of Emerging Infectious Diseases (IATF-EID) and in close coordination with the Department of Health (DOH), Department of Transportation (DOTr), Department of National Defense (DND), Department of the Interior and Local Government (DILG) and Bases Convention and Development Authority (BCDA). This place is a mega TTMF since it can accommodate approximately 108 COVID-19 patients especially during incidence of surge of cases.
Dr. Maria Paz P. Corrales, Assistant Regional Director joined Dir. Balboa in this important site visit. During the visit, they had the opportunity to inspect the areas, logistics and amenities and were able to talk with several staff about the operational systems implemented in the TTMF.
The establishment and operationalization of the Filinvest Tent "We Heal As One Center" Mega TTMF is indeed a genuine product of public-private partnership for health.
Meanwhile, everyone strictly observed the basic health protocols for COVID-19 prevention during the visit.