DIR. BALBOA VISITS LOCAL TTMF IN PASIG CITY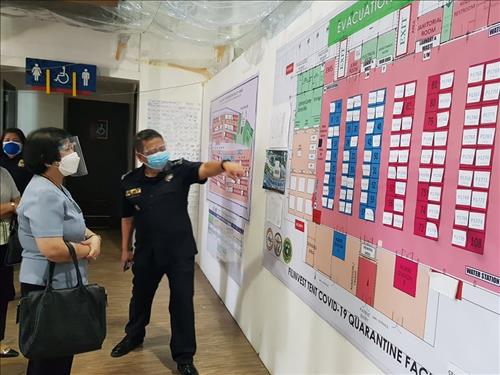 HPMRU News Release No. 49
April 20, 2021
Dr. Gloria J. Balboa, Regional Director of the Department of Health – Metro Manila Center for Health Development (DOH-MMCHD) officially visited Rizal High School in Caniogan, Pasig City on April 19. Rizal High School is the designated "We Health As One Center" Temporary Treatment and Monitoring Facility (TTMF) of the local government of Pasig.
The 1,000-bed capacity facility will accommodate individuals tested positive for COVID-19 but with mild to moderate symptoms and those who need to be isolated.
Dr. Maria Paz P. Corrales, Assistant Regional Director joined Dir. Balboa in the site visit. The two Directors had the chance to check the areas, logistics and amenities. Likewise, they were able to talk with the staff working in the facility about the procedures put into operation in the TTMF.
Everyone strictly observed the basic health protocols for COVID-19 prevention during the visit.