PNP OFFICERS PAY COURTESY CALL TO DIRECTOR BALBOA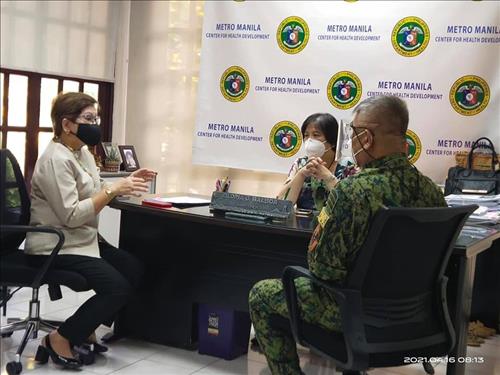 HPMRU News Release No. 047
April 16, 2021
Dr. Gloria J. Balboa, Director IV of the Department of Health - Metro Manila Center for Health Development (DOH-MMCHD) today welcomed the police officers of the Philippine National Police (PNP) as they paid their courtesy call to her as the new Regional Director of DOH-MMCHD.
Dir. Balboa cordially greeted and met with PBGEN Luisito Prado Magnaye, Director of PNP Health Service and his officers namely: PCOL Jezebel Medina, Deputy Director for Operations; PLTCOL Beverly de Guzman, Chief, Medical Officer, Regional Health Service- National Capital Region Police Office (RHS-NCRPO); PMAJ Eliza G Jacinto, Chief Nurse, NCRPO; PCPT Madrinan, Aide de Camp; and PLT Raquel Vanessa S Afanta, Nurse Officer, RHS-NCRPO. Incidentally, the PNP National Headquarters is at Camp Crame, Quezon City. Dr. Maria Paz P. Corrales, Assistant Regional Director of DOH-MMCHD joined Dir. Balboa in meeting the police officers.
This is a follow-through meeting with Dir. Balboa when PCOL Ma Nenita S de Leon and some RHS-NCRPO officers visited DOH-MMCHD for a courtesy call last April 6, 2021. PNP and DOH-MMCHD aimed to strengthen the coordination, collaboration and commitment between the two national government agencies in planning and implementing various health programs and projects in the National Capital Region.
Since the country is still amid COVID-19 pandemic, basic health and safety protocols were strictly observed by the officers during the said meeting.