SEC. DUQUE ACCEPTS TECHNICAL ASSISTANCE FOR COVID-19 VACCINATION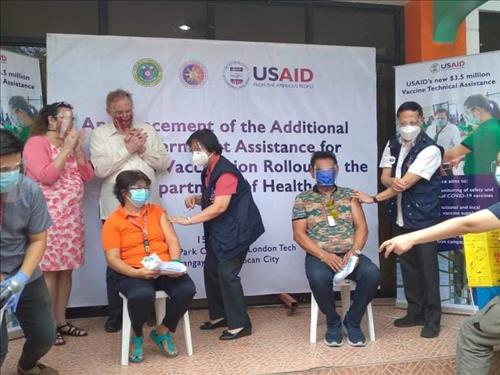 HPMRU News Release No.046
April 15, 2021
Secretary Francisco T. Duque III of the Department of Health (DOH) today represented the Philippine Government as he received and acknowledged the technical assistance of the Government of the United States of America, coursed through the United States Agency for International Development (USAID), in a simple event held at Buena Park Club House, London Tech, Barangay 80 in Caloocan City. The technical assistance aimed to strengthen the health system and support the COVID-19 National Deployment and Vaccination Program of the country.
Health Sec. Duque, USAID Mission Director Lawrence Hardy II, US Embassy Charge d'Affaires John C. Law, DOH-Metro Manila Center for Health Development Regional Director Gloria J. Balboa and other dignitaries were warmly welcomed by city administrator of Caloocan City.
In the early part of the activity, Dr. Evelyn Cuevas of Caloocan City Health Department presented the COVID-19 situation in the city and discussed the summary of the USAID technical assistance interventions for the vaccination program.
USAID Mission Director Hardy formally introduced CDA Law for the special message on behalf of the US government. CDA Law highlighted the assistance to be given to the Philippines to support the different interventions for COVID-19 response and announced the US$3.5 M aid granted to fund activities such as surveillance of Adverse Events Following Immunization (AEFI), enhancement of supply chain management, planning and policy development, monitoring of vaccine hesitancy, assessment of public opinions on vaccine deployment , improvement of communication strategies and other relevant activities for COVID-19 vaccination.
In his message, Sec. Duque expressed appreciation and gratitude for the enormous assistance handed by the U.S. government for the improvement of the health system and health of the Filipinos.
One of the highlights of the event was the ceremonial vaccination of pre-selected frontline healthcare workers done by Sec. Duque and Dir. Balboa.
Basic health and safety protocols were strictly observed throughout the event.