NCRPO-RHS OFFICERS PAY COURTESY CALL TO DIRECTOR BALBOA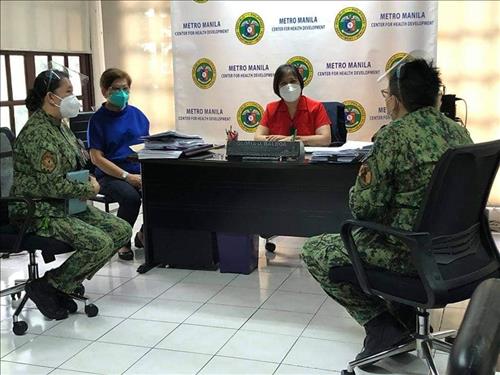 HPMRU News Release No.043
April 6, 2021
Dr. Gloria J. Balboa, Regional Director of the Department of Health - Metro Manila Center for Health Development (DOH-MMCHD) today welcomed the police officers of the National Capital Region Police Office (NCRPO) as they paid their courtesy call to her as the new Director of the said DOH regional office.
Director Balboa warmly greeted and met with PCOL Ma Nenita S de Leon, Chief of the Regional Health Services of NCRPO and three of its police officers. Incidentally, NCRPO is a division of the Philippine National Police (PNP) that is an agency part of the Department of the Interior and Local Government (DILG). The headquarters of the regional police office is at Camp Bagong Diwa in Taguig City.
The brief and yet significant meeting signaled the renewed and stronger partnership between the PNP-NCRPO and the DOH-MMCHD that will be essential in the various plans, programs and projects of both agencies.
It is a known fact that the country is still in the midst of COVID-19 pandemic. Basic health and safety protocols, such as wearing of face mask and shield and physical distancing, was observed by the officers during the meeting.
Dr. Maria Paz P. Corrales, Assistant Regional Director of DOH-MMCHD accompanied Dr. Balboa in meeting the police officer.