TYPE NG BAYAN," a bloodtyping event in Parañaque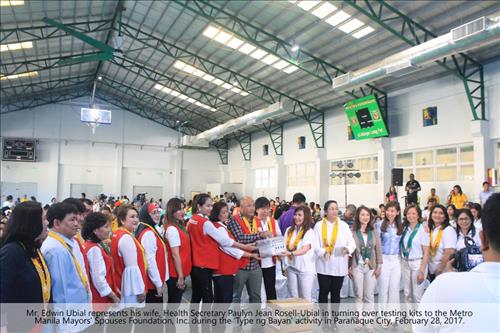 TYPE NG BAYAN," a bloodtyping event in Parañaque
By Joyce Anne Sandajan / Alexander Concepcion (March 24, 2017)
PARAÑAQUE CITY – The Department of Health (DOH) supports "Type ng Bayan," a national bloodtyping initiative aimed to determine blood type information of Filipino citizens nationwide with Metro Manila as initial pilot site.
On February 28, the Cabinet Spouses Association Inc. (CSAI) in cooperation with the Metro Manila Mayors' Spouses Foundation Inc. (MMMSFI), DOH, DILG and the City of Parañaque held the 'Type ng Bayan' Blood typing activity at the Parañaque Sports Complex.
Conceptualized by renowned stylist Ricky Reyes, the 'Type ng Bayan' program aims to consolidate information on the blood type of all Filipinos, allowing them to be informed of their own blood types. The program is highlighted with the provision of identification cards bearing the patient's name, photo, blood type and five possible blood donors in case of emergencies. According to Reyes, a living blood bank within the community will be made possible through the help of this project.
This event was graced by the spouse of Health Secretary Paulyn Ubial, Mr. Edwin Ubial as her representative, Regional Director Ariel I. Valencia, and National Voluntary Blood Services (NVBS) Program Manager Marites Estrella. Other VIPs included Sec. Martin Andanar of the Presidential Communications Office (PCO) and Parañaque City Mayor Hon. Edwin Olivarez
Ms. Janet Olivarez, MMMSFI President and wife of Mayor Olivarez, thanked all sponsors and organizers who made the event possible. In this event alone, Type ng Bayan had already successfully tallied an estimate of 2,900 blood-typed individuals and 40 blood donors.
Promotion and funding of this nationwide activity is spearheaded by the Office of the President, DILG and CSAI, and will eventually be turned over to the MMMSF. Each local government unit will receive at least 100 testing kits from DOH which will be distributed to all barangays.
Registered Medical Technologists from the Philippine Association of Medical Technologists (PAMET) offered their services as one of the event partners.
The 'Type ng Bayan' program was officially launched at Mandaluyong City Hall on February 7 then on February 26 at Pasig City Sports Center; March 22 in Pasay City and May 9 at the Quezon City Experience Museum.