SEC. DUQUE URGES HEALTH PROTOCOL COMPLIANCE IN MARKETS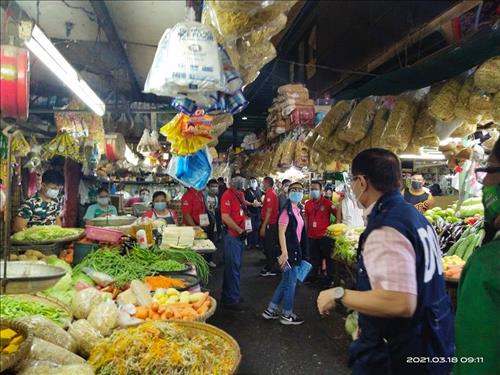 HPMRU News Release nO.037
March 18, 2021
Secretary Francisco T. Duque III of the Department of Health (DOH) today visited Nepa Q-Mart, one of the largest wet-and-dry drop-off markets in Metro Manila situated along Epifanio de los Santos Avenue in Cubao, Quezon City, to urge the people particularly the merchants and the market-goers to strictly follow the minimum public health and safety protocols being enforced by the government to prevent the transmission of COVID-19 which has been adversely affecting public health and national development for over a year now.
Sec. Duque was warmly received by Honorable Maria Josefina G. Belmonte, Mayor of Quezon City; Dr. Esperanza Anita Arias, Officer-In-Charge of the Quezon City Health Department; officers and health workers of the city government and administrative staff of Nepa Q-mart.
During his rounds in the market, Sec. Duque, carrying with him a BIDA Bastonero meter stick, checked on the adherence of the merchandizers, vendors and buyers to the basic health protocols. Sec. Duque witnessed that there were a number of individuals who failed to observe the protocols while inside the public market such as the proper wearing of face mask and face shield and the observance of physical distancing. In this regard, the Health Secretary, together with his team, distributed pieces of face mask and face shield along their way to various alleys and stalls in the market.
Sec. Duque strongly urged the people to practice the BIDA Solusyon, the behavioral campaign of the DOH that embodies the strict compliance to the Minimum Public Health Standards (MPHS) for COVID-19 prevention,
Assistant Secretary Elmer G. Punzalan; Head of the DOH- Field Implementation and Coordination Team for the National Capital Region; Dr. Gloria J. Balboa, Regional Director and Dr. Maria Paz P. Corrales, Assistant Regional Director, both of the Department of Health– Metro Manila Center for Health Development, with selected staff, joined the Health Secretary in the market visit.
On the way to his community visit in Tondo, Manila, Sec. Duque was accompanied by Mayor Belmonte and the rest of the group and visited East Avenue Medical Center along East Avenue, in Diliman, Quezon City. Dr. Alfonso G. Nunez, the Medical Center Chief, led the hospital staff in cordially welcoming the national and local officials. Sec, Duque checked the COVID-19 Testing Facility and commends the hospital management for their readiness to minister to the COVID-19 patients