SEC. DUQUE URGES HEALTH PROTOCOL COMPLIANCE IN BARANGAYS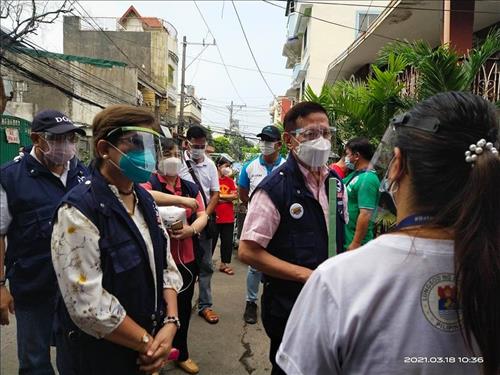 HPMRU News Release nO.036
March 18, 2021
Secretary Francisco T. Duque III of the Department of Health (DOH) today visited Barangay 135, Zone 12, Tondo in the City of Manila and strongly advocated the residents follow the ic health and safety protocols being enforced by the national and government to prevent the transmission of COVID-19 that has been severely affecting public health situation and economic development of the country and the whole world for more than a year.
Health Secretary Duque was welcomed by Hon. Alejandro J. Ramos, Barangay Chairman of Barangay 135 and the members of Barangay Health Emergency Response Team (BHERT) and barangay council. Also, present in the event to receive Sec. Duque were the health workers of Posadas Health Center and the members of the Manila COVID-19 Vaccination Action Center (MCVAC).
Prior to the community rounds, Sec. Duque took the chance to talk to the barangay officers, BHERT, health center staff and MCVAC members. He emphasized the importance of strictly adhering to the health protocols being enforced by the national and local governments. He made particular mention on the proper wearing of face mask and face shield as basic line of self-protection and for the prevention of transmission of COVID-19. "Huwag natin itong babalewalain," he stressed. He, likewise, advised the barangay captain and the barangay kagawad to do regular and intensified roving public announcements for the compliance to health protocols so that the residents of the barangay will be constantly reminded on this.
During his rounds in the barangay, Sec. Duque, while carrying with him a BIDA Bastonero meter stick, advocated for strict health protocol compliance and checked on the adherence of the residents on these protocols. The Health Secretary and his contingent distributed face masks and face shields to the residents on their way to different streets.
Accompanying Sec. Duque in the visit to Barangay 135 were Assistant Secretary Elmer G. Punzalan; Head of the DOH - Field Implementation and Coordination Team for the National Capital Region; Dr. Gloria J. Balboa, Regional Director and Dr. Maria Paz P. Corrales, Assistant Regional Director, both of the Department of Health– Metro Manila Center for Health Development and with selected DOH central and regional office employees.