SEC. DUQUE URGES PEOPLE TO ADHERE TO HEALTH PROTOCOLS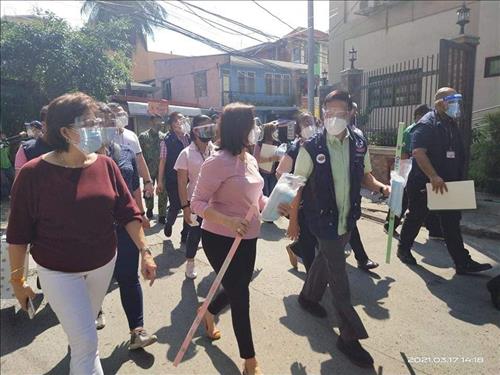 HPMRU News Release No.035
March 17, 2021
Secretary Francisco T. Duque III of the Department of Health (DOH) today visited Malibay Health Center and Barangay 178 in Pasay City to personally witness the compliance of the people to the health protocols or Minimum Public Health Standards (MPHS) being implemented by the national and local governments to prevent the transmission of COVID-19 and curb the cases in the barangays.
Those who joinedg Sec. Duque were Hon. Imelda Calixto-Rubiano, Mayor of Pasay City; Dr. Cesar Encinares, City Health Officer; Dr. Maria Lourdes San Juan, Assistant City Health Officer; Councilor Julie Gonzales, President of the Pasay City Liga ng mga Barangay; and Dr. Ginalyn Caguete, Physician-In-Charge of Malibay Health Center.
Assistant Secretary Elmer G. Punzalan, Head of the DOH Field Implementation and Coordination Team for Metro Manila: Dr. Gloria J. Balboa, Regional Director and Dr. Maria Paz P. Corrales, Assistant Regional Director, both of the DOH-Metro Manila Center for Health Development, accompanied Sec. Duque during the entirety of the community visit.
Prior to the actual rounds of the Health Secretary to the community, he had the opportunity for an informal yet significant chat with the local officials on the current situation of the COVID-19 in Pasay City. On their end, the local officers presented to Sec. Duque the prevailing conditions of the affected residents and communities including the health and safety measures being implemented by the city government. During the discussion, Sec. Duque emphasized, "Magtulungan tayo sa laban na ito."
Likewise, Sec. Duque endorsed boxes of face masks and face shields to Pasay City thru Mayor Rubiano. He said that this gesture is an urgent instruction by His Excellency, President Rodrigo R. Duterte to give the people, especially the poor individuals and families, the face masks and face shields that they may readily use to prevent them from contracting the viral infection.
The community visit of Sec. Duque with the DOH and Pasay City officials in the residential area and marketplace in Barangay 178 in Malibay immediately followed the simple turnover of the face masks and face shields. During the said visit, Sec. Duque personally talked to several residents and handed them the face masks and face shields. He highlighted the importance of health protocols, particularly the proper wearing of face masks and shields as first line of defense against COVID-19 and the observance of physical distancing with other individuals.
Security officers ensured the safety of the Health Secretary and all the national and local officials and staff during the entire activity. Groups of broadcast, print and online media practitioners covered the event.